Where volunteers, nonprofits, and leaders shine.
8th Annual Heart of Napa Awards
$22,500 in awards in six categories, recognizing and honoring Napa County's outstanding nonprofit volunteers, leaders, and organizations. 
8th Annual Heart of Napa  Recipients
The Corporate Community Service Award is presented to a business that has fostered and encouraged volunteerism and philanthropy among its employees.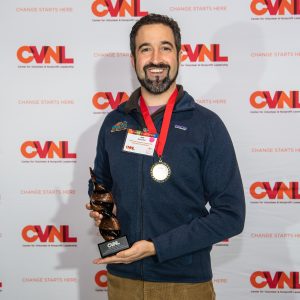 The 2022 Heart of Napa Award for Corporate Community Service goes to American Canyon Orthodontics. 
Dr. Jeff Nichelini, DDS and staff model the values of volunteerism, support, mentoring, and service to others.
At American Canyon High School, they donate to the Choir, Academic Decathlon, Theater, and Band. At American Canyon Middle School, they donate Disneyland tickets to the Student of the Year, and they support events for all three American Canyon Elementary Schools.
Their sponsorship support includes Junior Wolves Football and Cheer, Little League, Soccer, Swim Team, Season of Giving, Friday Nights at the Plaza, Boys and Girls Club, American Canyon Community Church, American Canyon Parks and Recreation Department and American Canyon Food Pantry.
Dr. Nichelini has served on nonprofit boards for the American Canyon Family Resource Center and the Community and Parks Foundation.
During Covid shutdowns they spearheaded weekly food distributions that reached 1,000 people, providing paid volunteer time for their employees to help. They also donated 3,000 N95 masks.
As schools resumed in person classes they donated and delivered a pallet of paper (500,000 sheets) to school sites.
They provided a Pumpkin Patch at the office purchasing over 1,000 pumpkins and invited anyone in the community to stop by and take one. And during the winter holidays, they provided 1,000 wrapped gifts, free for anyone in the community to stop by and pick one.
Community support is an everyday occurrence for American Canyon Orthodontics.
Congratulations!
Sponsored by: 
The Volunteer of the Year Award and $5,000 for the recipient's nonprofit is presented to an individual (other than a board member) who has provided exemplary volunteer service to a Napa nonprofit organization.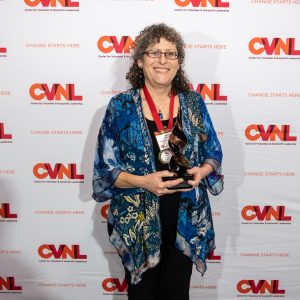 The 2022 Heart of Napa Award for the Volunteer of the Year award goes to Debbie Alter-Starr, Napa Valley Latino Heritage Committee, Napa County Historical Society. 
Debbie is the co-chair for the Napa Valley Latino Heritage Committee. She coordinates the Hilos Visibles Latino community quilt project; she has done 90% of the work for the project ranging from writing grant applications to producing marketing materials. 
Debbie facilitated close to 400 predominantly Latino students and adults in making art – both the 402 quilt squares on display and the linoleum cut stamped outdoor banners at the Napa and St. Helena historical societies.
Debbie and Frances, her co-chair, approached all arts, culture, education and heritage institutions to explore collaboration. Napa Valley and St. Helena School Districts got involved resulting in 12 classrooms participating from elementary through high school ages.
All public libraries distributed hundreds of free quilt square kits and collected them back.  And Calistoga Upvalley Family Center's Latina elders group made quilt squares and helped as volunteers. 
Debbie helped St. Helena Historical Society join the project, as well as Rianda House and the St. Helena Public Library. She brought in Nimbus Arts teacher, Latina artist Andrea Casarez to organize a banner making activity for people of all ages and to help bring the project to the St Helena Farmers Market.
Through "pop up" craft tables at Día de La Familia – a fair for farm workers in Napa – and at American Canyon's Meet me in the Streets, Latino Heritage Night, Debbie brought the project to additional under-represented groups. 
Debbie spent many nights cutting fabric swatches and filling quilt kits to ensure that the project was inclusive regardless of peoples' age, resources, languages, ethnicities, or abilities.  A number of participants shared that this was the first time they have felt seen and heard. 
Congratulations Debbie.
Sponsored by: Syar Foundation 
The Excellence in Board Leadership Award and $2,500 for the recipient's nonprofit is presented to an exceptional volunteer member of a Napa nonprofit board of directors.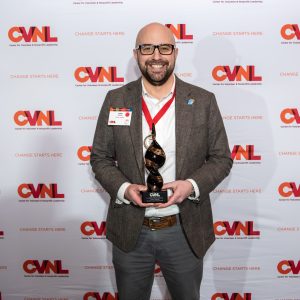 The 2022 Heart of Napa Award for Excellence in Board Leadership goes to Justin Gomez, Molly's Angels of Napa Valley.
Molly's Angels, a 25-year-old organization was run by highly dedicated volunteers until recently when they began transforming from an all-volunteer group to a professionally managed organization.
As board Chair, Justin has been a force of change. He kickstarted the board's evolution from an operational to governing mindset.  He navigated an Executive Director transition and led the charge on a comprehensive internal legal and financial review to ensure that the organization had sound policies, compliant financial oversight, and adequate resources.
He is an ambassador to the community to identify resources, he develops and manages strong board agendas ensuring all voices are heard, and he is a thought partner with the Executive Director.
When the former Executive Director notified him that she was leaving, he immediately went to work with an Interim ED, sketching out a transition plan.
Justin is adept at managing at the 10,000-foot level but is also not afraid to roll up his sleeves. He is always available, but he does not micromanage. He is always happy to remind the board what is under the purview of operations so that their eyes remain on governing.
Congratulations Justin.
Sponsored by: PG&E
Up to five Youth Volunteer of the Year Awards of $1,000 each is presented to full-time middle or high school students serving a Napa nonprofit in the community, education, or faith environment.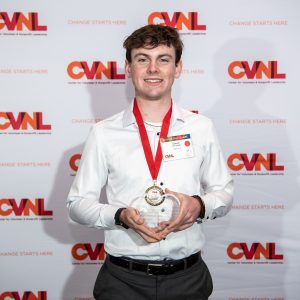 First Youth Volunteer of the Year is Carson Goodrich.
Carson is a Napa County 4-H Ambassador where he supports the production of events, mentors, coaches, and assists younger members to be successful with their presentation skills.
In 2022 he was awarded the position of 'Top Staff' for the County Camp. This is a weeklong sleep-away camp for 200 youth.
Carson has been a 4-H member for nine years. His accomplishments include:
Caroling at a Senior home for the holidays
Making gifts and crafts for Seniors
Designing and creating bat houses for donation
Mentoring peers and junior members
Serving as a County Ambassador, and
Creating a STEM Day fair with his Leadership team.
Carson serves in other volunteer capacities for Napa High Athletics including volunteering for two marathons, car raffle fundraiser, holiday Christmas tree lot, distributing wreaths for Seniors, and many school dances and activities.
This year Carson will be one of six Leaders representing Napa in Washington DC during Citizen Focus Week.
Congratulations Carson.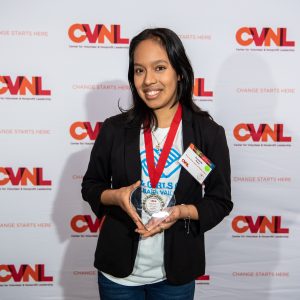 Second youth volunteer of the year is Dareydy Rojas.
Dareydy has been a member of the Boys and Girls Clubs of Napa Valley since 2nd grade.
Her vision is of a world where we break the trend of walking alone under the pressures of life. She wants the next generation to know that there is a community that will help carry the weight, lift the pressure, and challenge you to reach your highest potential.
At the teen center, as President, Dareydy represents the student-led leadership and service program "Keystone". She leads her peers in a variety of service projects such as the Crush Challenge bike race for cancer, the Halloween carnival and Holiday workshops, putting together care packages for troops at Operation with Love From Home, working with service animals through the LAPS training center, California Coastal Cleanup day, and the DiRosa artist program community mural project.
As a Teen Mentor she gives teens the opportunity to volunteer with elementary school members, helping to complete homework, guide enrichment activities and build positive relationships.  She designed and has guided a weekly, free dance program for the elementary and middle school members allowing over thirty members the opportunity to learn routines and express themselves.
Dareydy is a participant in the National Youth of the Year program that allows Teen Volunteers a platform to spread their unique message about their experience as a volunteer in hopes of inspiring the next generation to give back to their community in a similar way.
Congratulations Dareydy.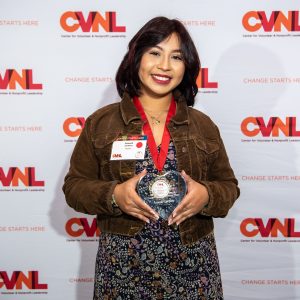 Third Youth Volunteer of the Year is Araceli Cantera.
Araceli has been a member of the Mentis Teen Council for three years and currently serves as the president. In 2022 she served on the social media team and had a starring role in the fund-a-need video.
Araceli is deeply dedicated to mental health advocacy, especially in communities that have been traditionally excluded. She believes that not everyone has access to mental health tools and works to make it more commonplace for people to have what they need. Araceli suggested the Teen Council learn more about LGBTQ+ best practices and learn ways to be better allies. She researched LGBTQ+ Connection's Sexual Orientation Gender Identity and Gender Expression training and proposed it to Mentis staff.
Araceli is trained as a Question, Persuade, Refer Suicide Prevention Gatekeeper, which is an evidence-based curriculum that teaches gatekeepers to recognize the signs of a mounting suicidal or mental health crises and how to question, persuade, and refer that person to get the help they need to save their lives.
She serves on the Napa Youth Council and part of the California Youth Council, which works to keep young people safe from the dangers of tobacco. And is involved in Rainbow Action Network's 'little libraries,' working to give young children access to more inclusive books. She is involved in story times, where she reads these inclusive books to children.
Araceli is an advocate for social justice, a strong, dedicated, and reliable voice for the Latino community and for those who don't often have a voice.
Congratulations Araceli.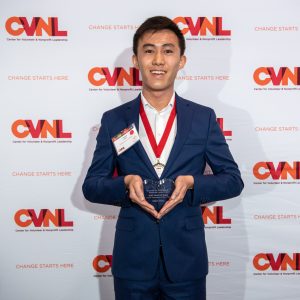 Fourth Youth Volunteer of the Year is Victor Chen.
Victor has been a volunteer with the Napa County library since 2015.
Victor suggested and implemented several programs that have appealed to many. Most notably, the first Lunar New Year Celebration where he spent hours pulling together ideas, researching project supplies, making prototypes, and promoting. Roughly 115 people in the community came out to celebrate and learn about Asian culture and traditions.
For seven years, as a volunteer for the Library, Victor has participated in programs such as book reviews, movie nights, Lego robotics, button making, how-to festivals, and summer reading programs.
As a Teen Advisor Board member, he attends meetings and collaborates with teen volunteers to share feedback and plan future programs. 
He is the co-founder of the Chess Club and spear headed a video game tournament.  Victor partners with Scouts of America bringing programs to Napa and American Canyon, educating, and informing the community on outdoor skills, such as first aid, knot tying, identifying native plants and animals, and on how to 'leave no trace behind'.
Congratulations Victor.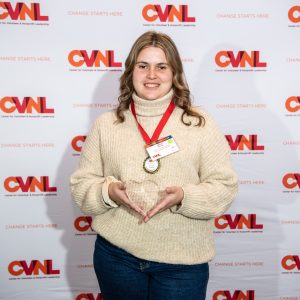 Final Youth Volunteer of the Year is Abbey Mercer.
Abbey joined her local 4-H chapter in 2014 which gave her the confidence to be a public speaker, to create informational presentations, and to become an effective group organizer. Now the president of her club, she runs the monthly meetings and co-chairs the Countywide Management Board working alongside adult leaders. 
Abbey is a teen council member and social media manager for Mentis Teens Connect where she creates content to spotlight the work.
At Jameson Humane she completed the Leaders for Ethics, Animals, and Planet program, and puts her skills to work with livestock and small animal feeding and cleaning.
Abbey recognized that there are people facing hunger, so she jumped in to volunteer as a lead organizer at Agape Food Pantry, coordinating food drives across schools, planning for special items for children, and recruiting new volunteers. She has been doing this monthly for three years, even in the pouring rain!
Abbey has served on Mike Thompson's Congressional Student Leaders Council, and the Community Leaders Coalition Youth Voting Council.
She is concurrently enrolled in both high school and Napa Valley College while also tutoring younger students. After high school, she plans to defer college for a year while she broadens her world view. She has been hired to be an au pair in Australia, to work in Argentina, and on a family farm in Hawaii, and she will be part of Worldwide Opportunities on Organic Farms in Europe for a few months.
Congratulations Abbey.
Sponsored by: Redwood Credit Union
The Excellence in Leadership Award and $5,000 for the recipient's nonprofit is presented to an executive director who has demonstrated excellence in leadership and whose vision has inspired meaningful and lasting change benefiting the organization and community.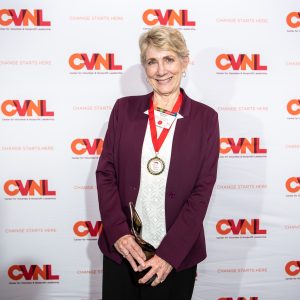 The 2022 Heart of Napa Award for Excellence in Leadership goes to Margaret Farman, United Cerebral Palsy of the North Bay.
UCP of the North Bay provides employment, education, and recreation programs for children and adults with intellectual disabilities, cerebral palsy, autism, and epilepsy; and accompanying mobility, vision, and hearing impairments.
Margaret and the Board set out to revolutionize employment for persons with developmental disabilities paying them at prevailing wages, and with a focus on integration in the community. WineBev Services was established in Napa County in 2008, providing job training and paid work. Today, they serve 102 adults working at local businesses.
Margaret directed the expansion of the employment program through grants from the California Department of Developmental Services. These grants support the employment program in Napa by providing community-based recycling jobs, paid internships at local businesses, and employment.
Margaret took an active role in the Napa community, becoming President of the Napa Valley Coalition of Nonprofit Agencies and providing support for other nonprofits working toward the same goals.
When Margaret became CEO in 2006 the annual budget was $30,047 with assets totaling $4.2 million. At the start of 2023, the budget is $23.1 million with assets totaling $58.8 million.
This extraordinary growth has provided both stability and sustainability through the development of programs and the purchase of property that are home to WineBev Services, other adult programs, and their nonpublic school.
Margaret has personally practiced everything she asks of others professionally by caring for an adult with a developmental disability in her forever home for the last 31 years. Her leadership and mentoring have always prioritized her ongoing commitment to helping people with disabilities live a "Life Without Limits."
Congratulations Margaret.
Sponsored by: Comerica Bank
The Achievement in Nonprofit Excellence Award and $5,000 is presented to an organization that has demonstrated exemplary service to their constituents.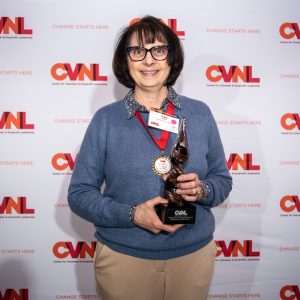 The 2022 award for Achievement in Nonprofit Excellence goes to Expressions of Hope, Inc.
Peggy and Tom Smith began Expressions of Hope (EOH) 17 years ago to change the way a child was transitioned into a new home. Foster and adoptive parents themselves, they understood the need for resources and support beginning from the moment a child is placed.
All EOH services are open to anyone caring for an at-risk child – foster families, grandparents, or aunts/uncles who are often caring for a child who has been removed from their home (many outside the foster care system).
EOH works closely with the County's Family Preservation Unit, helping biological parents who are struggling to keep their children out of foster care. EOH also offers services to those parents in the Family Maintenance Unit to help reunify them with their children. The Child Welfare Service does their part of protecting the child by placing them with a foster family. EOH fills the gap with its specialized services including:
A Resource Center for items that are often not sufficiently gathered when a child is removed, including beds, bedding, dressers, etc.
Delivery of meals during the first week of receiving a new placement.
A mentoring program in which new Resource Parents are matched with seasoned foster parents.
Emotional support through monthly group meetings.
A respite care stipend for families, and
The Foster Kids Fund for special needs.
When a social worker removes a child, they have the peace of mind knowing they can refer the child and the caregiver to EOH and Peggy's team will wrap their arms around them.
Congratulations Expressions of Hope.
Sponsored by: Peter A. and Vernice H. Gasser Foundation
Thank You Presenting Sponsor

Bank of Marin has served Northern California businesses and the people who run them for more than 30 years, providing insight, guidance and legendary service. Community commitment is one of the Bank's core values, believing that strong communities benefit everyone. In the words of the Bank's founder, Bill Murray, "We do well by doing good."