12.14.17 — Status of the Bay Area Human Race
Thank you to those who were part of CVNL's 35th Annual Bay Area Human Race. Together we were able to raise $245,747 for 55 Bay Area nonprofits. Now, CVNL is preparing to discontinue this community event to prepare for the future and what lies ahead.
This isn't a decision we came to quickly, or without a lot of consideration. We've been monitoring this event closely for the last three years; after recently completing our strategic plan, it became clear that it was no longer viable from an economic or "person power" perspective.
To manage this event is a full-time job as we provide logistics, marketing, training, and tools to help nonprofits reach their goals. Race day alone requires 100 volunteers and staff to manage the participants, exhibitors, vendors, and supporters.
We realize this decision may disappoint those nonprofits that have come to rely on the event for fundraising. By re-focusing the tremendous volunteer effort, staff time and resources that went into the Bay Area Human Race, we're able to pursue new projects that deliver on our mission in a more direct, impactful, and long-term way, such as:
Foundation Center Online Database – new and improved fundraising interface connects nonprofits to grant makers; now available in CVNL's Napa office;
Enhancing membership – downloadable online tools and resources for nonprofits that respond to common challenges and questions as well as new programs and networking opportunities responsive to changing needs (coming in 2018);
Impact Capacity Assessment Tool (iCAT) – an engaging organizational assessment tool to help nonprofits gather knowledge, assess, and illuminate areas to focus capacity building efforts;
AmeriCorps Program – we recruit AmeriCorps Fellows to develop or deepen volunteer programs at Bay Area nonprofits. 
We are grateful to the nonprofits that have been a part of the event for the past 35 years. We appreciate the many sponsors that have allowed us to produce this event. While this decision was bittersweet, we look forward to deepening our relationships with nonprofits so that they can take their impact to the next level.
Thank you for being a part of the CVNL community, and for all that you are doing to make our world safer, healthier, happier, and more equitable.
In gratitude,
Your CVNL Team
Recap of the 2017 Race
Community spirit was palpable as hundreds gathered to support local nonprofits and schools in the largest collaborative fundraiser and nonprofit celebration in Marin County: the Bay Area Human Race. Saturday, May 13, 2017, marked the 35th consecutive year that Center for Volunteer & Nonprofit Leadership (CVNL) has hosted the Race. Sunny, bright skies encouraged friends, neighbors, and community members to gather early in the morning at the Marin County Fairgrounds. 1,000+ people ran, walked, strolled and rolled the 5K winding course to raise funds for causes they cared about.
GO TO THE RACE PAGE
We appreciate our CVNL Bay Area Human Race sponsors!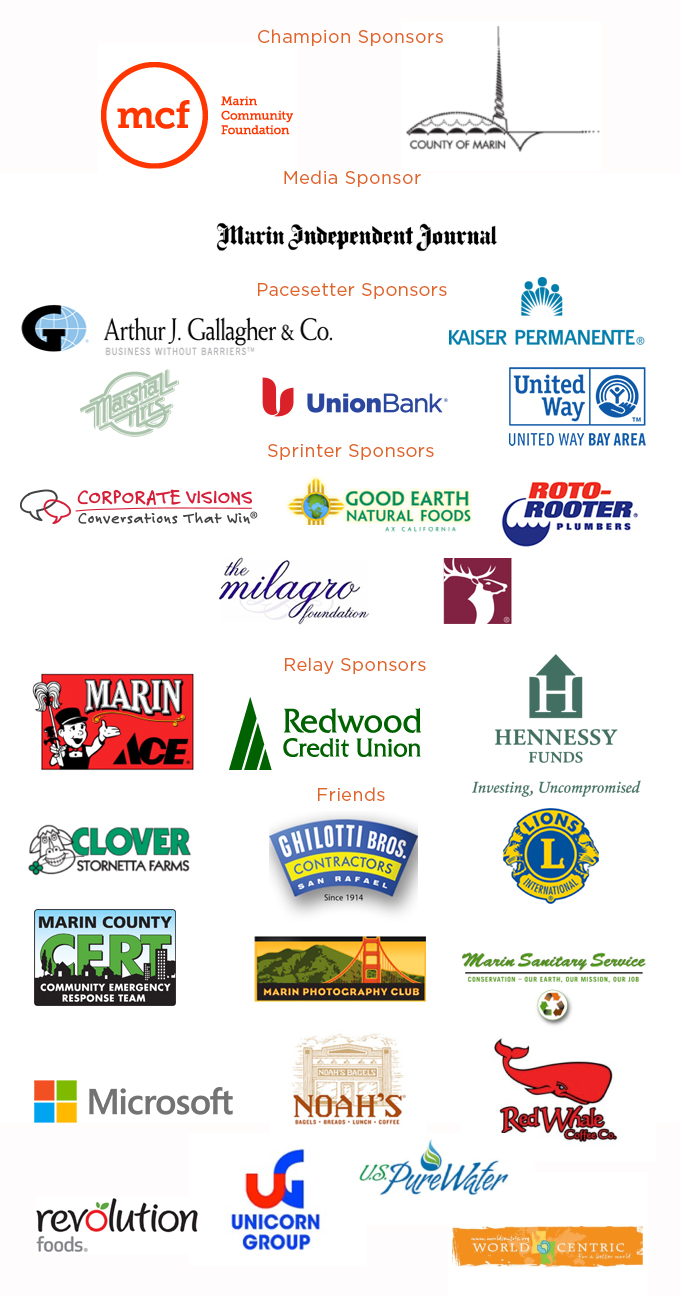 Re-live the moments…
Browse photos from the 2017 event. Be sure to tag your organization on Facebook and use #bayareahumanrace on Twitter. Happy sharing!
5K Run • Walk • Dog Walk • Community Village • Music • Food • Kids Races
Since 1982, the Bay Area Human Race, produced by Center for Volunteer & Nonprofit Leadership (CVNL), has been a critical fundraiser for many nonprofits. An established icon in the community, the race has raised over $7.7 million dollars for nearly 2,000 local nonprofits over the past 34 years. Race day features a fun and energizing 5K run/walk at the historic Marin County Civic Center lagoon park and fairgrounds, including music, Kids Races and activities, a dog walk, the Community Village Fair and a pancake breakfast. The event is open to everyone — and the entire community is invited to participate. Hundreds of volunteers, spectators and supporters donate to causes and contribute to the success. 
Click here to view the 5K course map (downloadable PDF)