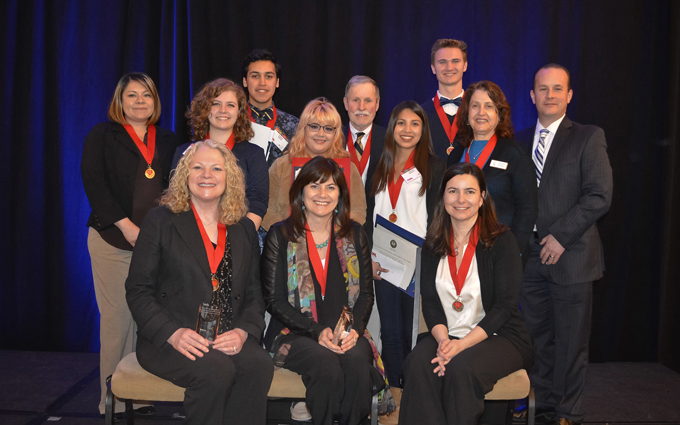 1st Annual Heart of Napa Awards News
Thanks to everyone who experienced the 1st Annual Heart of Napa™ Awards on Tuesday, February 23, 2016!
We are overjoyed at the response to the inaugural Heart of Napa Awards. Participation far exceeded our hopes for this first-ever celebration. Our goal was 50 nominations and 150 attendees — we were elated that more than 300 people came to the event to celebrate 90 exceptional nominees at the Napa Valley Marriott Hotel & Spa! Winners were kept secret until the moment they were announced by our fabulous emcee, KTVU's Debra Villalon. $20,000 was awarded to recipients outstanding nonprofits serving Napa County, and the committed individuals who serve them.
View photos from the event:
Photos © Paul Haggard. If you appear in the photos and would like to receive an original photo file, contact Peter Rodgers: prodgers@cvnl.org.
Heart of Napa Awards Program
The Awards program presents all of the nominees and also covers Executive Search & Transition Services highlights, upcoming Leadership Training events, Consulting Services, and opportunities to give back through our Volunteer Services programs in the coming months. Recall the celebration — view the event program:
1st Annual Heart of Napa Award Recipients
Nominees…
Thanks to everyone who submitted nominations — we are thrilled with the quality of people and organizations who were recognized on February 23, 2016. View all of the 2015 Heart of Napa nominees: