Where volunteers, nonprofits, and leaders shine.
7th Annual Heart of Napa Recipients
Award categories and recipients are listed below: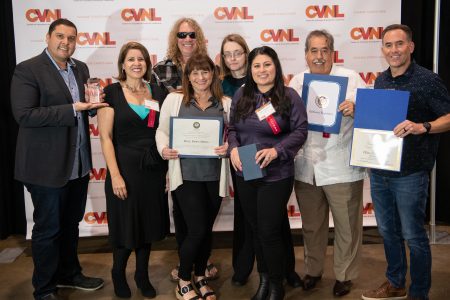 The Corporate Community Service Award was presented to Wine Down Media. 
Wine Down Media, the parent company of KVYN 99.3 FM "The Vine" and KVON 1440 AM/96.9 FM "MegaMix" is committed to unifying people, platforms, and programming to create positive changes in Napa County.
"The Vine" adopted Bel Aire Park Magnet School. The school's curriculum focuses on Communications and Media. DJs, Claudette Shatto and Robin Bright volunteer teaching public speaking skills to the students. These lessons encourage students to build self-confidence.
Each grade level has an opportunity to use radio to share a message that they are passionate about. While not all students get to speak on-air, all students – 420+, have had the opportunity to work with Claudette and Robin to learn skills.
As a response to the community's needs, KVON was switched to a fully-Spanish format with information, news, and entertainment. It was recognized that the large Hispanic community in Napa County has been marginalized and underrepresented. Through recent natural disasters, emergencies, and the pandemic, information for the Spanish-speaking population needed to improve.
Wine Down Media inspires its employees to make a positive impact starting from its leaders. The station owners, Julissa (jewel-lissa)  and Will Marcencia, serve on several local nonprofit boards and committees.
Many employees also serve on local boards and are active in the community. Wine Down Media's focus on employee volunteerism is to maximize the impact where employees live and play.
Congratulations Julissa and Will.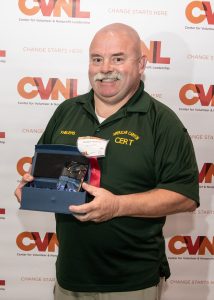 The Volunteer of the Year Award and $5,000 was presented to Powell Helems, Napa Valley Community Emergency Response Team. 
Napa Valley Community Emergency Response Teams (CERT) are made up of community members like Powell who are trained in how to respond to emergencies and assist first responders.
In 2021 Powell contributed over 650 hours supporting COVID vaccination clinics. He was helpful in keeping many of the Napa Valley CERT teams together and trained through the last two years.
During the 2020 wildfires Powell contributed 1300 hours to COVID tests and wildfire response and was instrumental in organizing and managing the large animal rescue. As a result of that experience, with another volunteer, he designed and built a portable radio to increase emergency communications and volunteer safety.
Powell's dedication and professionalism is a model for everyone, and his actions are directly responsible for improving the safety of Napa communities. Powell dedicates a significant amount of time leading and growing the American Canyon CERT team. He readily shares his experience and training and he never seeks the limelight. Powell thank you for demonstrating the very best of our community.
Sponsored by: Syar Foundation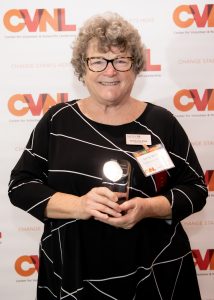 The Excellence in Board Leadership Award and $2,500 was presented to Sandy Re Sims, Aldea Children and Family Services.
Sandy Re Sims dedication and commitment to Aldea's mission contributed to a highly successful and first ever virtual Change-A-Life Gala which raised $135,000 for Aldea services and programs. She supported the event with financial donations as well as selling tickets and a donation of auction lots.
Sandy has been active in ensuring staff have felt supported during the pandemic attending staff meetings to assure staff of their financial stability and to answer questions.
She meets with the CEO weekly to discuss needs.
She has successfully recruited board members and personally mentors them so they can be successful.
Her stewardship, advice, and experience have made it possible for the new CEO to manage well through a very difficult time.
Each board member joins one committee and Sandy participates in three. She has direct relationships with some of the top donors and is a constant ambassador in the community.
Sandy has recently secured two corporate partners. She has been a true support in switching to virtual meetings, helping the board and executive team stay the course while so much change was occurring.
Sandy thank you for sharing your experience, relationships, and for rolling up your sleeves, jumping in and doing whatever it took to get the work done.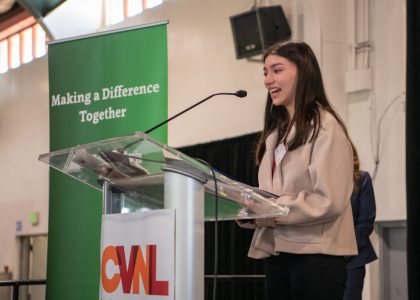 1st Youth: Ximena Alvarez-Parra, Mentis 
Ximena is the President of the Mentis' Teen Council where she provides leadership and direction to council-members at meetings, social meetups, promotes volunteer opportunities and actively engages with peers on social media.
Ximena joined Bring Change to Mind, a mental health club at Napa High as a sophomore and has been leading the club for the past two years.
Ximena has volunteered with Napa Resource Conservation District and The Hero Foundation in environmental cleanups.  With Rainbow Action Network she has assembled kits that include books and materials and helped young children with crafts at the winter holiday celebration.  At the Napa Farmers Market, she delivered holiday gifts to older adults at Rohlff's Manor, and assembled gift boxes for families and children through First Presbyterian's Operation Christmas Child initiative.
Ximena also volunteers as a junior coach for Girls on the Run, worked with horses at Sunrise Horse Rescue, served as a Peer Panelist for the Napa/American Canyon Peer Court program, and volunteered with the AVID program at Napa High School.
Ximena is a natural leader, an advocate for youth wellness. She tackles projects with curiosity, creativity, a generous heart, and a huge smile.
Congratulations Ximena!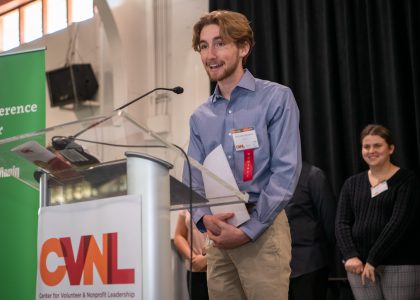 2nd Youth: Nicholas Dominici, The GIGG 
Nick co-founded the Youth Leadership Academy of Napa and organized two Summer Academies for middle school students. The goal is to empower students to see themselves as leaders and apply their strengths to their everyday lives.
Nick has been the Captain of the Relay for Life Team for seven years. When he heard that there was not going to be a local event he reached out to the American Cancer Society. In spite of all the COVID restrictions, he, along with other youth volunteers hosted their own mini Relay for Life.
Nick assisted the "Napa Valley is Better Together" group in hosting an End-of-the-Summer Dance Party for people with special needs.
The God is Good Group falls under the Patrick Savage Memorial Corporation which honors the life of Nick's Uncle Patrick who lost his life in a drinking and driving car accident. Nick has been an active part of the nonprofit since its inception.
Service is his way of life, a continuous effort on his part to work towards a better community, especially for the youth of Napa.
Congratulations Nick.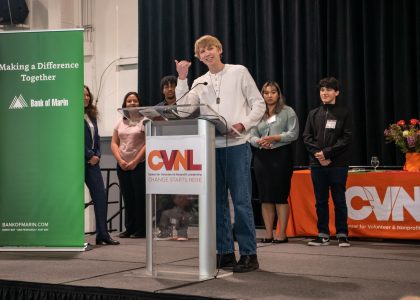 3rd Youth: Kyle Hadeler, Boys and Girls Clubs of Napa Valley 
Kyle, is a volunteer for the Boys & Girls Club where he has gone from someone who was unsure of their direction to someone who has found his way and is using his passions to build a better community.
Examples of his commitment over the years can be seen through his 5000 hours of service, joining causes such as The Relay for Life, putting together care packages for troops through Operation with Love from Home, taking care of service dogs with Canine Guardians, serving at Feeding it Forward, cleaning up the Napa River, being a volunteer fencing coach with Napa Valley Fencing Academy, and helping to lead the Boys & Girls Club STEM and cooking club programs.
Kyle has represented the Club as President of the volunteer service group Keystone, he is a daily participant of the Teen Mentor program and a weekly leader of the "We Own Friday" teen events.
As a Teen Mentor, he has provided tutoring and recreational guidance for elementary school students.
Using his passion and the skills he has developed in culinary arts he guides weekly cooking classes and hosts family dinners at teen events that bring together 40 teens every Friday night.
Congratulations Kyle.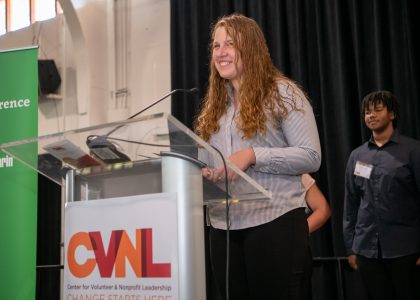 4th Youth: Emily Long, American Canyon Community and Parks Foundation 
Emily played an integral part of American Canyon Parks & Foundation's Park and Play mobile recreation program which brought healthy activities to 1,100 kids.
When the program transitioned to a drive through, Emily stuffed hundreds of "take and play" bags, each with carefully chosen items to support the mental health of kids.
Emily's passion for art shines through her work with Heart Your Parks, AC Rock Hunt and Poetry on the Trail. She painted pieces inspired by the Wetlands, rocks to be placed around local parks and transcribed poems on plywood with the goal of creating an inspiring visual and literary experience for the community.
When COVID kept people in their homes she helped create 70 flower arrangements to be delivered to community members.
Emily has volunteered at the Evening at the Ruins fundraiser for four years, assisting with set up, auction support, and mentoring teen volunteers.
As a volunteer Junior Coach for AHI Swim Team, she helps the youngest and most inexperienced swimmers perfect their strokes and become confident in the water.
At American Canyon High School, Emily is the President of the Gay-Straight Alliance Club and also was a guest presenter with the mental health production "This is My Brave".
We are so proud of you, Emily!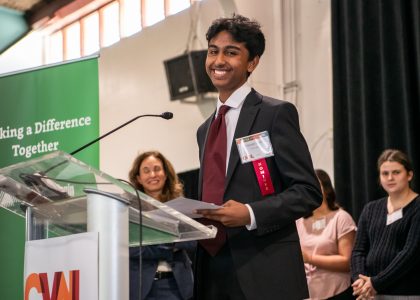 5th Youth: Hassan Shafi, Mentis 
Hassan serves as Vice President for Mentis' Teen Council where he has been instrumental in attracting other young men who are willing to be open and engaged in conversations about mental health.
Hassan takes part in his school's Mock Trail program and robotics team. He founded an Aerial Photography Club where he teaches fellow students drone cinematography.
Hassan is a board member of The Napa Youth Council, a group of high school and college students who strive to pass ordinances to reduce or restrict the use of tobacco products, especially among young people.
He serves as a lawyer in Napa Peer Court, which serves as a diversion program from the Juvenile Justice System for first time juvenile offenders who have committed low-level crimes.
Coding is Hassan's greatest passion, and he has been teaching it since he was eight years old. In fourth grade, he created a coding club at his school and taught 15 students per week. In middle school, he taught 25 students four days per week. In high school, he founded "The Bay Coders", a nonprofit organization that teaches programming to students. The organization is teaching students from three different continents. Hassan recently taught at a school in a rural village in Pakistan that teaches students from low socioeconomic backgrounds. Hassan learned the local language so he could teach in their native language. He taught them how to program and build apps, websites, and games, all via Zoom.
Thank you Hassan for your support around the community and the world.
Sponsored by: Redwood Credit Union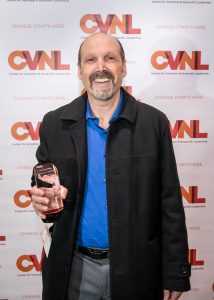 The Excellence in Leadership Award and $5,000 was presented to Rob Weiss, CEO, Mentis. 
Mentis' vision is to create a community of enduring strength by equipping children, youth, adults, and seniors with the tools they need to live emotionally healthy and stable lives.
Rob was one of 5 employees when hired in 1996. He worked as a therapist, case manager, and program director before becoming Executive Director in 2011.
As the agency has grown to a team of 45, Rob co-created a vision that allows Mentis to be as proactive as it is reactive, increasing its focus on early intervention and prevention.
Each year there has been a crisis to which Mentis responds, deploying mental health services.
Rob partnered with school districts to place therapists at middle and high schools after youth suicides; with Napa Valley COAD to place therapists at evacuation centers to support families displaced due to fires; and coached therapists as they assisted veterans after the Pathway Home shooting.
After County shelter-in-place orders Rob and his team offered a warm line for older adults suffering from anxiety and social isolation; free therapy groups, in English and Spanish, to support parents with the challenges of distance learning and youth anxiety; and waived copays for all clients.
In early 2020, after years of partnering to support middle and high schoolers who were struggling with anxiety and depression, Teens Connect merged with Mentis. Rob and Jeni Olsen, founder of Teens Connect have been sought after by other communities who want to design similar programs.
Rob's vision, mentorship and expanded focus into prevention, exemplifies excellence in leadership and a willingness to take chances to better serve the community.
Congratulations Rob.
Sponsored by Comerica Bank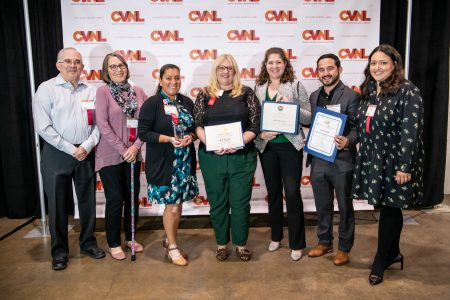 The Achievement in Nonprofit Excellence Award and $5,000 was presented to OLE Health. 
OLE (o-lay) Health provides high-quality, comprehensive primary care services to everyone who walks through their doors, regardless of income, insurance, immigration status, or ability to pay.
They understand that so much of what defines health happens outside of the clinic walls. They understand the importance of stable housing, reliable transportation, and access to nutritious food and are always exploring ways to address other social determinants of health through programs and partnerships.
Ole Health had 136,000 patient visits in 2021 and administered more than 45,000 doses of the vaccine to essential workers, senior citizens, and those at high risk.
The monthly food distribution provides healthy foods to 300 families in Napa and Calistoga.
OLE Health is the only administrator of the Comprehensive Perinatal Services Program in Napa, a state-sponsored program to help pregnant women have access to services during and immediately after pregnancy.
OLE Health participates in a federal program that allows eligible patients to access prescription medications at a significantly reduced cost.
They offer enrollment services for health coverage and CalFresh and they do not have to be a patient to get help finding, enrolling in, or renewing coverage.
In 2021, more than 157 individuals volunteered 6,108 hours to the vaccine clinic effort, helped with COVID testing in the community, the monthly food distribution, and other outreach events.
In 2021, OLE nearly tripled their amount of donations and more than doubled the size of the average gift.
They recently assumed ownership of two of their health center buildings, which will ensure continuity enable them to expand services while providing tangible assets for the future.
Congratulations OLE Health.  
Sponsored by: Kaiser Permanente Napa-Solano
7th Annual Heart of Napa Nominees
Award categories and nominees are listed below: 
The Volunteer of the Year Award and $5,000 for the recipient's nonprofit will be presented to an individual (other than a board member) who has provided exemplary volunteer service to a Napa nonprofit organization.
Carlo Bartalotti, The Hero Foundation 
Bibiana Corona, Mariposa Program of the Napa County Office of Education 
Dan Digardi, OLE Health, 
Jillian Efishoff, West Park Elementary School  
Blanca Gonzalez, NEWS 
Powell Helems, Napa Valley CERT 
Bruce Johnson, Calistoga Affordable Housing 
Sage Jones, Girls on the Run North Bay,  
Valerie Kakigi, The Tug McGraw Foundation 
Bill Lipschultz, Molly's Angels 
Cintia Martinez, Mariposa Program of the Napa County Office of Education 
Clarissa Mendoza, Mariposa Program of the Napa County Office of Education 
Dr. Lois Montague, Operation Access 
Dianna Robinson, Jameson Humane 
Maddie Wagner, The Tug McGraw Foundation 
Sponsored by: Syar Foundation 
The Excellence in Board Leadership Award and $2,500 for the recipient's nonprofit will be presented to an exceptional volunteer member of a Napa nonprofit board of directors.
Maria Cisneros, 10,000 Degrees 
Wendy Darneal Carolo, Mentis 
Mary Ellen Hester, Calistoga Affordable Housing 
Rick Jones, Napa Valley Education Foundation 
Anna Marie Longo, Cafeteria Kids Theater 
Amy Martenson, Napa County Progressive Alliance 
Bernie Narvaez, Napa County Hispanic Chamber of Commerce 
Sandy Re Sims, Aldea Children & Family Services 
Scott Thomason, American Canyon Community & Parks Foundation
The Corporate Community Service Award will be presented to a business that has fostered and encouraged volunteerism and philanthropy among its employees.
Cakebread Cellars 
Kaiser Permanente Napa Solano 
Komes & Garvey Ranches 
La Cheve Bakery & Brews 
Wine Down Media 
Up to five Youth Volunteer of the Year Awards of $1,000 each will be presented to full-time middle or high school students serving a Napa nonprofit in the community, education, or faith environment.
Ximena Alvarez-Parra, Mentis 
Victor Chen, Napa County Library 
Nicholas Dominici, The GIGG 
Eric Duarte Avila, ACE Calistoga 
Galen Freed, Sonoma Ecology Center at Sugarloaf Ridge State Park 
Kyle Hadeler, Boys and Girls Clubs of Napa Valley 
Andrea Hernandez Corro, Mariposa Program of the Napa County Office of Education 
Isabela Hernandez Segura, Mariposa Program of the Napa County Office of Education 
Oscar Leon, ACE Calistoga 
Emily Long, American Canyon Community and Parks Foundation 
Carolina Padilla, Mariposa Program of the Napa County Office of Education 
Jessica Salomon Gonzalez, ACE Calistoga 
Hassan Shafi, Mentis 
Evelyn Simi, Mariposa Program of the Napa County Office of Education 
Luis Tovar, ACE Calistoga 
Kate Zarate, Girls on the Run North Bay
Sponsored by: Redwood Credit Union
The Excellence in Leadership Award and $5,000 for the recipient's nonprofit will be presented to an executive director who has demonstrated excellence in leadership and whose vision has inspired meaningful and lasting change benefiting the organization and community.
Evie Ayers, Music in the Vineyards 
Olivia Cowell & Aimée Guillot, Cafeteria Kids Theater 
Tony Fletcher, Enchanted Hills Camp for the Blind 
Amy Herold, Providence Queen of the Valley Medical Center 
N'dea Johnson, Yellow Heart Committee 
Larry Kromann, Calistoga Affordable Housing 
Jenny Ocón, UpValley Family Centers  
Julia Orr, Molly's Angels of Napa Valley 
Janelle Sellick, American Canyon Community & Parks Foundation 
Monica Stevens, Jameson Humane 
Jennifer Stewart, Napa Valley Education Foundation 
Rob Weiss, Mentis 
Sponsored by Comerica Bank
The Achievement in Nonprofit Excellence Award and $5,000 will be presented to an organization that has demonstrated exemplary service to their constituents.
10,000 Degrees 
Boys & Girls Clubs of St. Helena and Calistoga 
Cafeteria Kids Theater 
Calistoga Affordable Housing 
Community Resources for Children 
Equi-Ed, Inc 
Hearts and Hands Preschool 
The Hero Foundation 
Jameson Humane 
Law Enforcement Chaplaincy of Napa County 
Mariposa Program of the Napa County Office of Education 
Mentis 
Molly's Angels 
Monarch Justice Center 
Napa Farmers Market 
Napa Solano SANE/SART 
OLE Health 
ParentsCAN 
Share the Care Napa Valley 
St. Helena Hospital Foundation 
United Cerebral Palsy of the North Bay
Sponsored by: Kaiser Permanente Napa-Solano
Thank you Presenting Sponsor

Bank of Marin has served Northern California businesses and the people who run them for more than 30 years, providing insight, guidance and legendary service. Community commitment is one of the Bank's core values, believing that strong communities benefit everyone. In the words of the Bank's founder, Bill Murray, "We do well by doing good."