Where volunteers, nonprofits, and leaders shine.
Nominations are now open!
Due online by Friday, January 21, 5:00 PM
Now, more than ever, we need to share the stories of Napa County nonprofits and the dedicated people who support them. We hope you will consider nominating an organization or individual this year for making a difference in one of six award categories.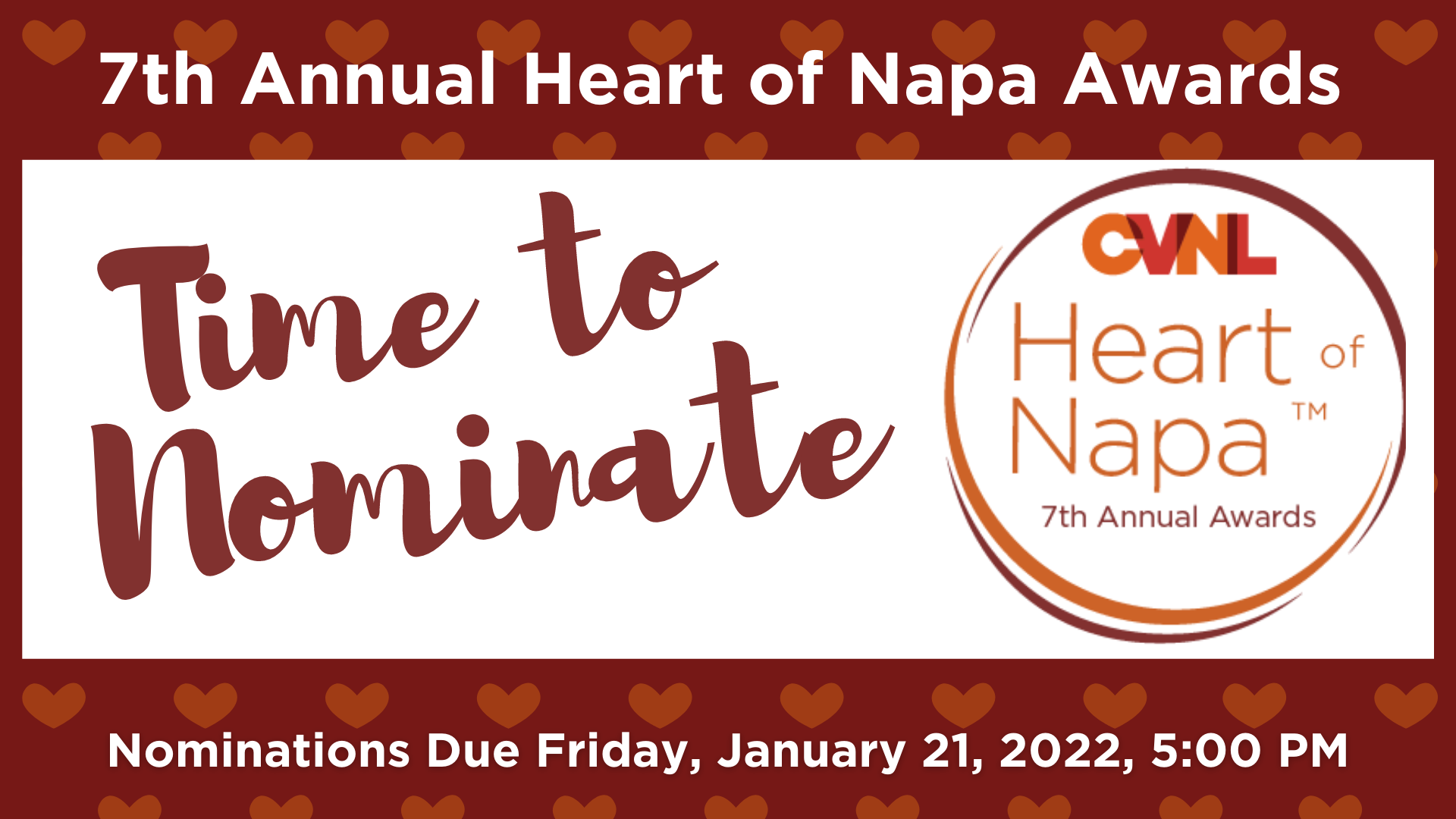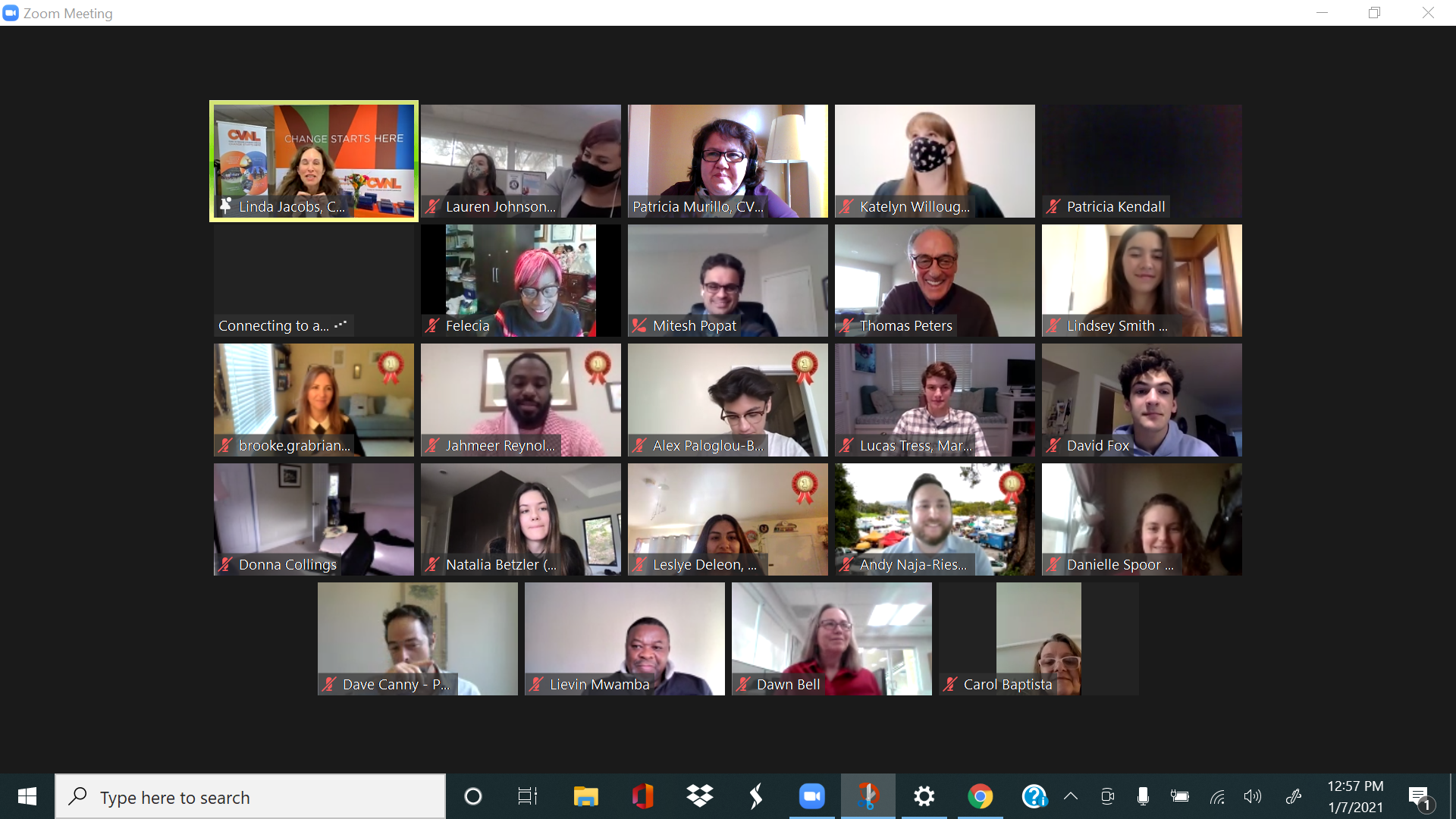 Don't miss the celebration...
Tickets are tables can now be reserved!
SAVE THE DATE: March 17, 2022, 11:00 AM – 1:30 PM. 

We look forward to celebrating with you in person. Come celebrate nominees and recipients at the 7th Annual Heart of Napa Awards Luncheon, at the Napa Valley Expo Center.


Congrats to this year's award recipients!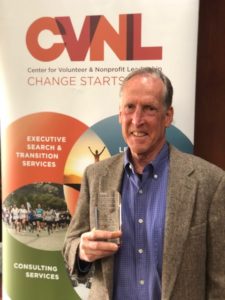 The Volunteer of the Year Award was awarded to Barry Christian, American Canyon Community & Parks Foundation.
If you have hiked a trail in Napa County, chances are Barry has been involved in it.
COVID restrictions made it impossible to have in-person events so Barry volunteered to lead virtual hikes to ensure that everyone could experience the outdoors safely. He helps seniors and people with mobility issues get outdoors using his pedicab.
Barry consistently promotes the San Francisco Bay Trails by attending City Council, Board of Supervisor, Fish and Wildlife, or Napa Sanitation District Board meetings.
The events of 2020 never slowed Barry down. Over the past year, he spent several days each week watering seedlings and caring for trails. This work often involves the effort of pushing a wheelbarrow up and down dirt trails.
Barry's contribution to the community is endless. He volunteers to help elementary school students with creek clean-up activities, worked with American Canyon High School Students for science projects, served as a Board Member for the Friends of the Napa River, serves on a variety of elected or appointed positions throughout the County, and more.
Barry is an asset to American Canyon, Napa County, and beyond.
Sponsored by: Syar Foundation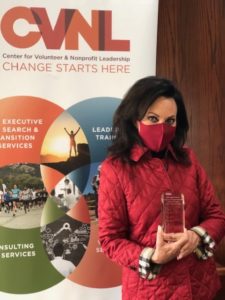 The Excellence in Board Leadership Award was presented to Deborah Tonella, Music in the Vineyards.
During 2020, Deborah worked with the Executive Director to involve board members in supporting the organization through the pandemic. This included:
• Having the finance committee create budget scenarios
• Developing a plan of engagement with sponsors
• Engaging each board member in outreach
• Facilitating a virtual festival
• Working on a structure for the staff to enable them to work from home
When they abandoned the three-week festival in August, Deborah organized a phone-tree where each board member contacted donors to do a wellness check-in and to assure them that they were still there.
To replace the festival, Deborah hosted virtual cocktail parties, where small groups of supporters met and talked to the artistic directors and festival musicians prior to concerts.
The impact of Deborah's support was an increase in individual and board donations. While the total income for the year fell, Deborah's drive to maintain contact has meant they survived and are able to plan for the future.
Along with the pandemic came unrest in our society, Deborah worked with the staff to craft a statement on their website expressing their desire to stand against discrimination and racism. She also began the process to expand the diversity of their board and organization.
Deborah, congratulations, and thank you for your leadership.
Sponsored by: Comerica Bank
Five Youth Volunteer of the Year Awards of $1,000 each were presented this year!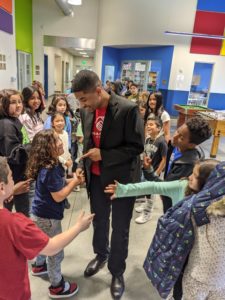 First Youth Volunteer of the Year: Andre Aikins, Boys & Girls Clubs of Napa Valley, Senior, American Canyon High School. 
Andre joined the American Canyon Boys & Girls Club as a first grader. After he graduated 8th grade, and no longer had a program available to him, he spent nearly every break volunteering as he wanted to give back whenever he could.
The role model he grew into, and how infectious his positivity was is inspiring and validates the work of the Boys and Girls Clubs.
Andre does not have to "turn it on" or put forth a concerted effort to make an impact on others. His ability to naturally gravitate toward anyone who needs support is uncanny.
In 2020 when all plans were put on hold, Andre's willingness to help and stay connected to the club never wavered. He helped with meal services and engaging with their online content.
Andre transitioned to college and is now a member of a Fraternity where he helps fundraise for an initiative "go-to-high-school, go-to-college" program that helps to inspire and empower youth to reach their educational goals.
Congratulations Andre!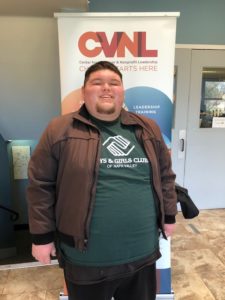 Our second Youth Volunteer of the Year: Rudolph Barragan, Boys & Girls Clubs of Napa Valley, Senior, New Tech High School (photo coming).
Rudolph is a model for what it means to give back to the community.
Examples of his commitment can be seen through his involvement with Martin Luther King Jr. Day, putting together care packages for troops with Operation with LOVE from HOME, the ZD Wines Crush Challenge, helping coordinate fundraisers for the Northern California Wildfire relief efforts, and leading projects such as Teen Family Dinners.
Despite COVID, his volunteer efforts have remained steadfast. He is the Co-President of Keystone, a daily participant of the peer study mentor program and a weekly leader of the "We Own Friday" teen events.
Rudolph wanted to make sure that the opportunity for teens in the community to come together would remain. His organized virtual scavenger hunts for teens, remaining socially distant. The challenges consisted of trivia questions, riddles, calls to action to do random acts of kindness such as reach out to a friend to check on them, emailing teachers to express appreciation and even sending words of motivation to peers to help them during finals week.
Congratulations Rudolph!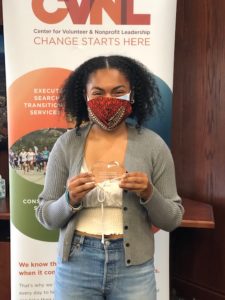 Our third Youth Volunteer of the Year: Kalaya Jones, Mentis, Senior, Napa Valley High School. 
Kalaya is part of Teens Connect at Mentis which offers school and community-based prevention and early-intervention programs for middle and high school students to help them combat trauma, stress, anxiety, and depression.
Kalaya implements wellness activities for teens, breaking the stigma surrounding mental health, offers peer support and crisis intervention, and connects with community leaders to participate in volunteer projects.
Up until shelter-in-place, Kalaya served food to homeless neighbors; created music playlists and spent time with Alzheimer's patients; and helped children shop for Christmas gifts for their families.
Since shelter-in-place, Kalaya has distributed care packages to isolated, low-income seniors in Vallejo; helped distribute fresh produce to low-income families in American Canyon; helped collect snack items and handmade notecards to create care packages for staff at Health and Human Services, Queen of the Valley and St. Helena Hospitals and OLE Health; and filled backpacks for Napa's homeless during the holidays.
Kalaya helped organize a Black History Month Event, where she spoke to an audience about her personal experiences with racial inequality and discrimination. She participated in a youth mural project in partnership with the Rail Arts District, and she is involved in Rainbow Action Network, a group of LGBTQ allies that aims to make Napa a welcoming place.
Kalaya participates with "Teen Happy Hours", which include art projects, yoga, and mindfulness virtual workshops, hosted by experts that teach tools for managing anxiety, healthy relationships, and LGBTQ inclusion.
Kalaya tutors 4th and 5th graders in the Oakland School District through Math Champs. She has been involved with Bayganda since 3rd grade, an organization based in Berkeley and Uganda that holds summer camps to educate and encourage kids to sew as a creative outlet and raises money for an orphanage in Uganda.
Kalaya is a natural leader with a generous heart.
Congratulations Kalaya!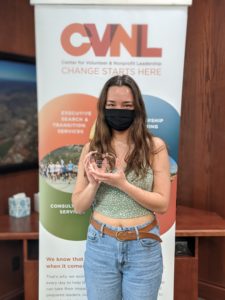 Our fourth Youth Volunteer of the Year: Ava Rubin, Napa County Robotics, Senior, Vintage High School. 
Ava manages two robotics teams that were introduced to Napa County in 2020. Working closely with the student founder and adult mentors, she oversees students ranging from 7th to 12th grade.
With the constraints that COVID presented to what is typically a very hands-on, in-person set of projects, Ava prepares outlines for the meetings and communicates the action plan so that students have purpose and direction.
She serves as a mentor to students that had little to no experience in building and programming robots which requires significant research so that they understand new tech and programming concepts.
Ava guides them to draw their ideas on paper. If the student is not a natural sketcher she has them describe what they are envisioning and she sketches for them.
Ava puts the success of the team ahead of her own goals and ambitions, exhibiting an understanding of what a leader can achieve by inspiring others.
Ava volunteered 400 hours in 2020 which included hands-on assistance, peer-to-peer tutoring in programming, project planning, and design concepts, and helping teams work with schools in presenting their STEM projects.
Congratulations Ava!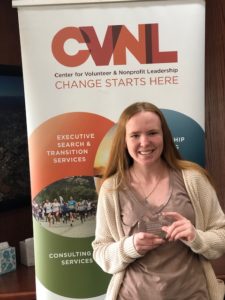 Our final Youth Volunteer of the Year: Mariah Smith, Expressions of Hope, Senior, Valley Oak High. 
Mariah came into foster care at the age of 16 months. She was adopted at the age of three.
She was six years old when Expressions of Hope, a resource center that serves the foster care community of Napa was founded by her mother. She tagged along to pick up and deliver donations, sort clothing, and shop for needed items. Now 17 and a Senior in high school, she is still volunteering.
Mariah serves foster families and social workers well. She knows where to find things, and can pull everything together for each request.
With COVID, Expressions of Hope adapted to offer drive-up meals to give the foster families a night off from cooking. Mariah organized the meals for each family, greeting them as they arrived, paying extra attention to the children, as she understands what they are going through. She also helped set up the Christmas "party" drive-through and distributed a gingerbread house to each family.
On average, Mariah volunteers 2-3 days/week for anywhere from 1-6 hours.
Mariah thank you for making a difference in the lives of foster families.
Sponsored by: Redwood Credit Union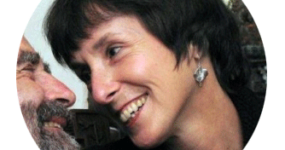 The Excellence in Leadership Award went to:
Hilary Zunin, Napa Valley CanDo.
Hilary was unable to be with us as she passed away on January 14th. The community lost a force for good, and it is sad that she isn't with us to celebrate her accomplishments.

Hilary was the co-founder of CanDo, an all-volunteer service organization that connects, inspires, and empowers neighbors by making it easy to take positive action that is tied to meeting community needs.

Projects include: the Give Guide which promotes funding for nonprofits providing critical services; four food projects aimed at reducing food insecurity; and, creating a volunteer arm for Napa Valley Community Organizations Active in Disaster to address the need for volunteers due to COVID.

The GiveGuide, has helped raise $3,746,341 for 125 participating nonprofits. Hilary and her leadership team have been effective at nurturing this program and adjusting to the challenges presented by COVID.
Adding to the challenges of 2020, was Hilary's declining health at the end of the year. She continued to work tirelessly to ensure operations continued. It was not until shortly before her death that she fully turned everything over after careful planning and documenting.
Hilary and her co-founder, Grania Lindberg, established an organization that is resilient, adaptable, and sustainable. The ability to develop the depth and breadth of community involvement is a tribute to Hilary's leadership. She was an exemplary leader who inspired many, committing herself to meaningful and lasting change which has benefited the community. She is missed, but her legacy lives on.
Sponsored by: PG&E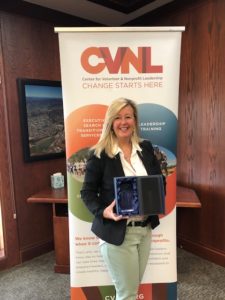 The Achievement in Nonprofit Excellence was presented to NEWS. Pictured above: Tracy Lamb, Executive Director. 
NEWS is dedicated to providing safety, hope, healing, and empowerment for survivors of domestic and sexual abuse. They promote safe communities and social change through prevention, intervention, education, and advocacy.
For those who have experienced domestic violence and sexual abuse, there is an urgent need for information, options, and physical and emotional safety. NEWS provides shelter, food, clothing, access to trained counselors 24/7, and support for financial and emotional stability to enable survivors to remain free from violence.
NEWS delivers youth violence prevention programs that are designed to prevent future violence by supporting students in understanding the dynamics of healthy relationships, and education on gender equity and empowerment.
Last year, NEWS served a total of 1,560 individuals. 247 of which were sexual assault survivors, nearly ½ of those were children under the age of 18.
The risk factors for domestic violence have been multiplied by the pandemic. Isolation, financial stress, lack of mental health and substance use resources, and children not having access to schools all create a toxic environment for domestic violence. These issues impact all of us regardless of race, gender, or economic status.
During 2020, NEWS continued to provide all of their programs by adapting and without putting the health of their staff or clients at risk. The Board's support in making quick decisions ensured the retention of staff during this challenging time, as well as maintained and grew services for clients.
Congratulations to Executive Director Tracy Lamb, the entire staff, board, and volunteers.
Sponsored by: Kaiser Permanente Napa-Solano
Award categories and nominees are listed below: 
The Volunteer of the Year Award and $5,000 for the recipient's nonprofit will be presented to an individual (other than a board member) who has provided exemplary volunteer service to a Napa nonprofit organization.
Juan Alvarez, Community Action Napa Valley – Meals-On-Wheels Program
Jeffrey Brooks, Operation Access
Cailey Buck, Canine Guardian
Assistance Dogs
Barry Christian, American Canyon Community & Parks Foundation
Kevin Eason, Molly's Angels
Powell Helems, Napa Valley CERT – American Canyon
Christine McMillan, ZERO – The End of Prostate Cancer
Michael Rupprecht, The Hero Foundation
Susan Schwartz, Alzheimer's Association
Jennifer Veveiros, Girls on the Run Napa & Solano
Caroline Wiegardt, Napa Farmers Market
Sponsored by: Syar Foundation 
The Excellence in Board Leadership Award and $2,500 for the recipient's nonprofit will be presented to an exceptional volunteer member of a Napa nonprofit board of directors.
Deborah Freed Goldman, 10,000 Degrees
Anna Marie Longo, Cafeteria Kids Theater
Kindle Lord, ZERO – The End of Prostate Cancer
Deborah Macdonald, Collabria Care
Sarah Moore, Mentis
Scott Thomason, American Canyon Community & Parks Foundation
Deborah Tonella, Music in the Vineyards
Sponsored by: Comerica Bank
Up to five Youth Volunteer of the Year Awards of $1,000 each will be presented to full-time middle or high school students serving a Napa nonprofit in the community, education, or faith environment.
Andre Aikins, Boys & Girls Clubs of Napa Valley
Rudolph Barragan, Boys & Girls Clubs of Napa Valley
Natalia Cabello Mendoza, Valley Oak High School
Yessenia Crespo Luna, Valley Oak High School
Kalaya Jones, Mentis
Carla Magaña, Mentis
Christopher Olivier, Napa County Robotics
Luisa Ortega Subdiaz, Bring Change to Mind / Girls on the Run Napa & Solano
Jose Perez, Valley Oak High School
Jahir Rivera Medina, Boys & Girls
Clubs of Napa Valley
Ava Rubin, Napa County Robotics
Josie Sellick, Boys & Girls Clubs of
Napa Valley
Mariah Smith, Expressions of Hope
Sponsored by: Redwood Credit Union
The Excellence in Leadership Award and $5,000 for the recipient's nonprofit will be presented to an executive director who has demonstrated excellence in leadership and whose vision has inspired meaningful and lasting change benefiting the organization and community.
Kerry Ahearn, Aldea Children and Family Services
Tony Fletcher, Enchanted Hills Camp for the Blind
Michele Grupe, Cope Family Center
Aimée Guillot and Olivia
Cowell, Cafeteria Kids Theater
Nataly Kuznetsov, Disaster Responder Assets Network
Claudia Sonder, Napa Community Animal Response Team (CART)
Pablo Zatarain, Fair Housing Napa
Valley
Hilary Zunin, Napa Valley CanDo
Sponsored by: PG&E
The Achievement in Nonprofit Excellence Award and $5,000 will be presented to an organization that has demonstrated exemplary service to their constituents.
Boys & Girls Clubs of St. Helena and Calistoga
Cafeteria Kids Theater
Catholic Charities of Diocese of Santa Rosa
Collabria Care
Community Action Napa Valley Community Resources for Children Expressions of Hope
Molly's Angels
Napa Community Animal Response Team (CART)
Napa Farmers Market
Napa Porchfest / Napa County Landmarks
Napa Valley Community Foundation
Napa Valley Community Housing
Napa Valley Education Foundation
Napa Wildlife Rescue
NEWS
OLE Health
Serenity Homes of Napa Valley
St. Helena Hospital Foundation
St. Luke's Episcopal Church Calistoga
The Hero Foundation
The Tug McGraw Foundation
Thank you Presenting Sponsor

At Bank of Marin, they serve Bay Area businesses and the people who run them, providing insight, guidance, and support as part of the legendary service that is our hallmark. Community commitment is one of their core values as they truly believe that strong communities benefit everyone. In the words of their founder, Bill Murray,
"If we do good, then everybody does better."