Heart of SONOMA COUNTY AWARDS
Where volunteers, nonprofits, and leaders shine.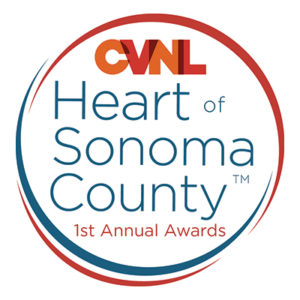 Every day, passionate individuals like you dedicate their work to advancing our communities. CVNL will honor local leaders and their causes at the 1st Annual Heart of Sonoma County Awards on Thursday, June 24, 2021. Thank you to everyone who submitted nominations! 
All nominees will be recognized at the event in June, and recipients will be announced in each category for work done in 2020. Thanks to the generosity of our Awards Sponsors, we will be able to give $35,000 back to deserving organizations. Let's recognize the humanity of those who work and volunteer within our nonprofit sector! 
Congrats to all of our 2020 nominees! 
Please complete your nominations online according to these FAQ's:
We're excited to bring this recognition event to our Sonoma County community!
Thank you to our Presenting Sponsor!
Comerica Incorporated is a financial services company headquartered in Dallas, Texas, strategically aligned into three major business segments: the Business Bank, the Retail Bank, and Wealth Management. Discover more by visiting https://www.comerica.com/.
We are currently seeking Award Sponsors in the following categories (partial sponsorship may be available in some categories):
Corporate Community Service
Excellence in Board Leadership
Click here to download our Award Sponsor package, or contact Dawn: dbell@cvnl.org. 
We are offering the event for free this year, so donations are welcome and appreciated. You can text-to-donate or click below to donate online. Thank you for your support!
Text "CVNL" to 930-212-3456 to donate now.