Heart of SONOMA COUNTY AWARDS
Where volunteers, nonprofits, and leaders shine.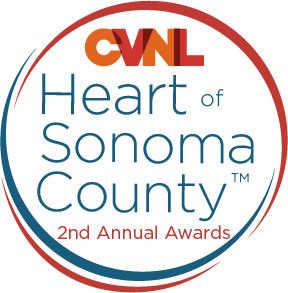 Save the Date, June 9, 2022
For the 2nd Annual Heart of Sonoma Awards Luncheon
at the Luther Burbank Center for the Arts.
Call for 2021 Nominations opens soon.
#heartofsonomacounty
1st Annual Heart of sonoma
Congrats to all of our 2020 award recipients! 
Congrats to all of our 2020 nominees! 
Please complete your nominations online according to these FAQ's:
We're excited to bring this recognition event to our Sonoma County community!
Thank you to our Presenting Sponsor!
Comerica Incorporated is a financial services company headquartered in Dallas, Texas, strategically aligned into three major business segments: the Business Bank, the Retail Bank, and Wealth Management. Discover more by visiting https://www.comerica.com/.
We are currently seeking Award Sponsors for next year's event.
Click here to download our Award Sponsor package, or contact Dawn: dbell@cvnl.org. 
We are offering the event for free this year, so donations are welcome and appreciated. You can text-to-donate or click below to donate online. Thank you for your support!
Text "CVNL" to 930-212-3456 to donate now.