Human Race has been canceled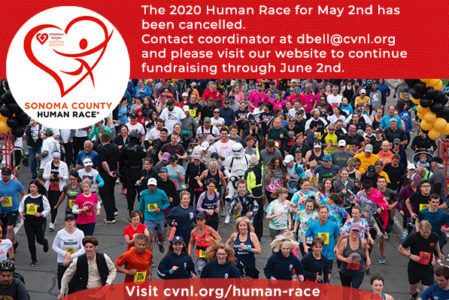 At CVNL + Volunteer Center of Sonoma County, our number one priority is the health and safety of all the members of our community. As a leader in disaster preparedness and response we take emergency situations seriously. As such, we have made the difficult yet necessary decision to cancel the 2020 Sonoma County Human Race, which was scheduled for Sunday, May 2, in Santa Rosa. 
In accordance with state and county recommendations for canceling events and gatherings, we looked into alternatives to a physical event and polled our participants and members about the option of holding a virtual fundraising event. After serious deliberations we will not be moving forward with a virtual fundraising event, it just isn't the right time for that. We will, however, keep the Human Race website open through June 2, 2020, as there are still companies, teams, and individuals fundraising. For those who want to continue to use the platform to fundraise or for those who want to donate please visit: www.sonomahumanrace.org
We are sorry that we will not be able to continue the 39-year tradition of celebrating our community together. We are grateful for the support of our sponsors and community members and look forward to coming together for the 2021 Human Race. 
If you are interested in moving forward with fundraising, please let us know if we can help you. If you choose not to please know that we understand and our thoughts are with you in these difficult days. 
Given all that's going on right now it's possible, even likely, that your focus is entirely in another direction. We just want you to know that the option to fundraise still exists through the Human Race website: www.sonomahumanrace.org

Best of health and happiness to you and yours.

Follow us on Facebook