Lake and Napa County, Valley Fire
CVNL is the Emergency Volunteer Center (EVC) for Marin and Napa, and is directly connected with service providers in the event of a disaster.
CVNL's EVC has been activated. We're working with Napa County, local nonprofits and emergency response officials to coordinate and support volunteer efforts. If you would like to volunteer for emergency response work in the future, register, complete or edit your Profile, and add your Disaster Profile Information.
Volunteers Needed!
CVNL is seeking volunteers now. Sign up directly on our Volunteer Portal. Specifically, we are looking for people to help as:
Valley Fire Shelter Volunteers
Help CVNL Distribute Donations at Napa Fire EVC
From all of us at CVNL — our hearts go out to the people who have suffered loss, those who are lending a hand, are on the ground helping, and to everyone impacted by this disaster.
In community,
– CVNL Staff and Board
Posted below, are recent Press Releases from Marin County and the Red Cross. We'll be providing updates and further news here on cvnl.org
FOR IMMEDIATE RELEASE
September 16, 2015
How to Help Lake County Fire Victims
Donations of items proving difficult to manage for disaster-struck area
San Rafael, CA – Marin County residents who want to help victims of the Valley Fire in nearby Lake County may make donations securely through the Lake County Local Assistance Center (LAC) and are asked to refrain from gathering goods to send to needy neighbors to the north.
Hundreds of homes and thousands of structures have been destroyed by the fast-moving fire that started on Saturday, September 12, and had grown to 70,000 acres by 8 a.m. Wednesday, September 16. More than 26,000 people had been evacuated, many of them with only a few minutes to organize their families and pets, and escape ahead of the flames.
The Marin County Office of Emergency Services (OES), a division of the Marin County Sheriff's Office, urges Marin residents to think twice before gathering donated goods and making a trip north to drop off the items personally. Lake County and the American Red Cross are not equipped to handle a large influx of household items, food or clothing because of the personnel and time it takes to store, sort and distribute the items.
On their main website, Lake County officials wrote, "We are in awe at the response we have received from members of our community and beyond. The generosity many of you have shown is heartwarming. It is getting to a point now where the amount of donations we have received has become overwhelming and difficult to manage."
Lake County asked that monetary donations be directed to the North Coast Opportunities/Mendo Lake Credit Union Lake County Wildfire Relief Fund with a memo for "Valley Fire." The Red Cross suggests visiting www.redcross.org to contribute financial aid or texting the word "REDCROSS" to 90999 to make a $10 donation.
"Everyone appreciates the good intentions of people who want to donate items, but financial donations are the quickest and best way to get help to the people who need it most," said Woody Baker-Cohn, a Marin OES coordinator and a longtime Red Cross emergency worker.
The Lake County LAC was activated by the Lake County Board of Supervisors to provide a centralized location for services and resource referrals during the response and recovery from the devastating fire. Fire and emergency services resources from all over California and several neighboring states have been rushed to the area.
Ursula Hanks, a coordinator with Marin EOS, was called up this week to help with donation management in Lake County. "After experiencing first-hand the chaos of donations, the burden has become overwhelming because of logistical challenges," she said. "Donations other than monetary are not encouraged until further notice."
The North Coast Opportunities Volunteer Program is working to coordinate registered volunteers who can help with donated items. To help on that end, check www.ncoinc.org.
Marin County Fire Chief Jason Weber provided an update from the fire standpoint to the Marin County Board of Supervisors during its regular meeting Tuesday morning.
"That community did not need to suffer another loss like this," Weber said in reference to the Rocky and Jerusalem fires that devastated Lake County in July and August. "Our hearts go out to all involved up there. … Let's hope for a little rain."
Marin County fire agencies have contributed the help of more than 50 personnel to the Valley Fire effort.
Weber urged local residents to check www.readymarin.org and www.readysetgomarin.org to take preemptive actions in and around homes and prepare plans for quick evacuations in case a devastating wildfire strikes in Marin. He said the creation of the 14-member Tamalpais Fire Crew 10 years ago has been "a great investment" by the Supervisors, and prevention efforts to clear vegetation away from dwellings are helping with preparedness.
"Can the same thing happen here in Marin? Absolutely, it can," Weber said. "We live in a susceptible area, but there are a lot of things people can do right now to make our neighborhoods safer."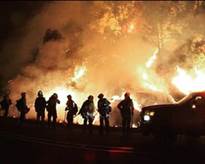 Photo: Marin County Fire Department personnel are silhouetted against flames from the Valley Fire in a photo taken by Tam Fire Crew Superintendent Tim Walsh.
Red Cross, Napa County, September 13, 2015
PRESS RELEASE
September 13, 2015
Red Cross Media Hotline: 855-559-0333
Red Cross Opens Shelters for Those Evacuating Due to the Valley Fire
Impacted residents staying elsewhere are encouraged to stop by for resources and information
(Kelseyville, California — September 13, 2015) — In response to the Valley Fire that erupted in Lake County on Saturday afternoon, American Red Cross local disaster workers have opened two shelters: Kelseyville High School at 5480 Main Street in Kelseyville and Napa County Fairgrounds at 1435 N. Oak Street in Calistoga, CA. At the fairgrounds, we have partnered with Petaluma Animal Services to care for the evacuated pets and animals. There is also a shelter operated by Lake County at the Clearlake Senior Center at 3245 Bowers Avenue in Clearlake. Saturday night, nearly 300 residents spent the night in the Red Cross shelters.
The shelters are providing immediate needs of those affected, including a safe place to stay, food (diner, snacks), water, medicines and health services, cleaning supplies, emotional support and other support resources. Impacted residents are welcome to stop by during the day even if they choose to spend the night elsewhere.
"Firefighters are doing heroic work in trying to contain the fire and keep residents safe, and it's our honor to support them in every way possible" said Jeff Baumgartner, Executive Director of the American Red Cross of the California Northwest. "We are working closely with the county officials to make sure all sheltering needs are met, and are prepared to scale up our support if needed."
RESPONSE UPDATES ONLINE
For updates on the Red Cross response, like us on Facebook at https://www.facebook.com/RedCrossCalNW or follow us on Twitter – @RedCrossCalNW.
The Red Cross maintains a variety of resources including a cadre of trained volunteers and equipment that allows the organization to be ready to respond 24/7 to provide help to people affected by disasters. As droughts continue and fires spread, the Red Cross will continue to work within communities to provide the needed resources to help people respond and recover from wildfires — even after the smoke clears.
BE PREPARED — WILDFIRE TIPS
Wildfires spread quickly, igniting brush, trees and homes. The Red Cross urges residents to follow all evacuation orders from local enforcement and be prepared. All families should have an emergency game plan for disasters large and small. Some basic wildfire safety tips are:
Be ready to leave at a moment's notice.
Listen to local radio and television stations for updated emergency information.
Back cars into driveways or park in open spaces facing the direction of escape.
Confine pets to one room so that you can find them if you need to evacuate quickly.
BECOME A VOLUNTEER

An average of 90% of Red Cross workers are local volunteers. By empowering individuals to help their neighbors when they need it most, we strengthen each community and make it more resilient to disasters large and small. The Red Cross has enough volunteers for this response at this time. Meantime, if you want to be trained as a Red Cross disaster volunteer to respond to future disasters, sign up at www.redcross.org/volunteer.
DONATE
A donation to Red Cross Disaster Relief can help provide shelter for someone who has had to leave their home and food and water for them to eat. Help people affected by disasters like wildfires and countless other crises by making a gift to Red Cross Disaster Relief. Your gift enables the Red Cross to prepare for, respond to and help people recover from disasters big and small. To donate, people can visit www.redcross.org, call 1-800-RED CROSS (1-800-733-2767) or text REDCROSS to 90999 to make a $10 donation.
IN-KIND GOODS DONATIONS

We appreciate the good intentions of people who want to donate items, but financial donations are the quickest and best way to get help to the people who need it most. The Red Cross isn't equipped to handle a large influx of donations such as household items, clothing or food that may or may not be useful to victims as it takes time and money to store, sort and distribute donated items. If community members still like to donate goods, we recommend they contact other organizations in their community and inquire if they are accepting donations.
About American Red Cross of the California Northwest
With office locations in Del Norte, Humboldt, Lake, Mendocino, Napa, and Sonoma counties, the American Red Cross is a non-profit, humanitarian organization that depends on the generous contributions of time and money from residents and companies to provide services and programs that help our community to prepare for, respond to, and recover from emergencies. For more information on disaster preparedness, health and safety classes, volunteer opportunities, and financial contributions, visit our website at redcross.org/santa-rosa or call us at 1-707-577-7600. You may also find us on Facebook and Twitter.