Where passion meets professionalism.
We know that passion alone isn't enough when it comes to creating strong nonprofits.
That's why we work with aspiring and established leaders every day to help them build the skills and connections that can take their impact to the next level. With confident and prepared leaders, our nonprofits will be better equipped to create healthy, happy communities.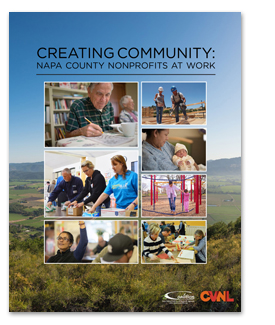 First-ever Napa County nonprofit study published.
CVNL and the Napa Valley Coalition of Nonprofit Agencies debuted "Creating Community: Napa Nonprofits at Work" at a forum on June 23, 2016. The report reveals contributions to the local economy, and the significant social and community impact of Napa's nonprofit organizations. Access the 2015 report. Read the press release.
CREATING COMMUNITY: NAPA NONPROFITS AT WORK
Thanks to everyone who braved the light rain for the 34th Annual Bay Area Human Race™ on May 7!
The Race was a tremendous success! As predicted, nothing dampened the celebration of community spirit on Saturday, May 7. 1,154 participants. 72 teams fundraised for 53 organizations. 78 volunteers. $268,603 was raised for nonprofits, schools and community groups. If you were there to experience the event, share your stories, photos and videos using #bayareahumanrace, so everyone can see the Race from your point of view. Go to the Race page to learn more…
Were you a 5K Race participant?
We invite you to explore. Why CVNL? Executive Search. Leadership. Consulting. Volunteerism. Membership. Stories & Resources. Our  Volunteer Portal makes it easy for organizations in Marin and Napa to post opportunities and for volunteers to connect with the causes they care about. Go to our online Calendar where you can view and access events happening in our community from a single point. cvnl.org — it's made for you and us.
CVNL — a resource for positive change.
Do you, or does your organization, face a challenge that demands a new approach? Do you have an instinct that getting expert guidance is what you need? Connect with us. We have the Consulting staff, expertise, resources and network of professionals to help. Learn more.
CVNL's new Volunteer Portal is open 24/7.
It's an exciting new place where it is easier than ever for organizations and volunteers to engage with us, and each other. Volunteers, find an opportunity. Agencies, post an opportunity.
$7.7M+ fundraised to date via CVNL Bay Area Human Race
$540,000+ raised via Heart of Marin & Napa
$105,000+ SEI (Service Enterprise) capacity-building scholarships (awarded)