Five Easy Steps to More Effectively Spark a Volunteer's Interest
A good volunteer position description is the first step in finding high quality candidates. Volunteers want to be assured that they will help further your organization's mission, no matter the size of the tasks they'll take on. Potential volunteers that clearly see the link between your mission and their volunteer efforts are more likely to be satisfied in their roles and stay involved, giving your organization a higher volunteer retention rate.
When writing a position description it is important to remember that you are the expert on the event or topic and this is the first time a volunteer is viewing the information. Follow an easy five step progression that naturally flows and provides all the information the volunteer needs to know.
What is the opportunity? Start with a persuasive line explaining the potential impact the volunteer could make. Think like an advertiser! Your hook line should be inspirational, showing potential volunteers that they can be part of the solution to your community's problems.
Broadly and succinctly explain how the volunteer opportunity is related to your mission. Explain how the volunteer's contributions will make a difference to those you serve, not just to staff or other volunteers.
Briefly explain what the volunteer position entails. Provide an overview of the duties, but wait to give the extensive details until the interview. Remember that the description of volunteer activities should also harken back to your mission, and should also including any restrictions or requirements.
Describe how this position will benefit the volunteer in meaningful ways. This could include the acquisition of professional skills or opportunities to socialize with fellow community members.
Clearly state your contact information so potential volunteers can reach you directly.
Here's an example:
The first draft, which didn't recruit any volunteers:
We need a volunteer who can help with office duties and paperwork filing during the work week. Must be proficient in Word and Excel.
The final draft, which recruited a long-term volunteer within a week of posting:
Do you want to help strengthen the nonprofit sector? Come join us as a volunteer! This is a great opportunity to see how an efficient nonprofit office is run and learn about all the different work opportunities in the nonprofit world. Our team of creative and enthusiastic volunteers and staff are looking for someone with strong organizational skills and attention to detail. This volunteer will help our top-notch Finance and Operations team by completing administrative tasks, managing office supplies and keeping track of inventory. Will you join us?
We invite you to explore our new volunteer matching technology, "Bay Area Volunteers." Powered by HandsOn Conect, Bay Area Volunteers brings volunteer management to new heights with a fully functioning website supported by Salesforce. Users can register and schedule volunteers and teams, report attendance, and organize service events with just a few clicks.
If you need support navigating Bay Area Volunteers or have specific questions, contact Aeryn Jungerman, AmeriCorps Fellow – Volunteer Infrastructure Project: ajungerman@cvnl.org or 415.448.0304.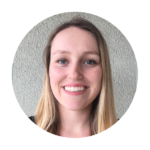 Post by
Aeryn Jungerman, AmeriCorps Fellow – Volunteer Infrastructure Project