Honor Napa nonprofits, leaders, and volunteers!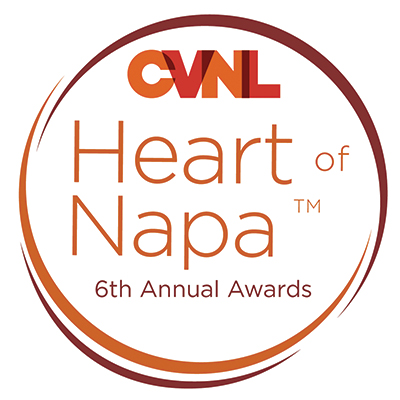 This year's Heart of Napa Awards will be going virtual. Mark your calendars: the event will take place on Thursday, March 18th, 2021, from 11:00 am to 12:30 pm. Heart of Napa will be the most visible and celebratory platform to honor individuals and groups who have stepped up in heroic ways during COVID-19 in 2020.
And there's more good news!
This year's event is free to all community members and donations are welcome and appreciated. Click here or below to register for the online awards ceremony and share the event with your colleagues, peers, and networks.
---
Here are the 2020 Nominees…
We appreciate everyone who submitted nominations for the 6th Annual Heart of Napa Awards.
Volunteer of the Year (Sponsor: Syar Foundation)
Juan Alvarez, Community Action Napa Valley – Meals-On-Wheels Program
Jeffrey Brooks, Operation Access
Cailey Buck, Canine Guardians Assistance Dogs
Barry Christian, American Canyon Community & Parks Foundation
Kevin Eason, Molly's Angels
Powell Helems, Napa Valley CERT – American Canyon
Christine McMillan, ZERO – The End of Prostate Cancer
Michael Rupprecht, The Hero Foundation
Susan Schwartz, Alzheimer's Association
Jennifer Veveiros, Girls on the Run Napa & Solano
Caroline Wiegardt, Napa Farmers Market
Excellence in Board Leadership (Sponsor: Comerica Bank)
Deborah Freed Goldman, 10,000 Degrees
Anna Marie Longo, Cafeteria Kids Theater
Kindle Lord, ZERO – The End of Prostate Cancer
Deborah Macdonald, Collabria Care
Sarah Moore, Mentis
Scott Thomason, American Canyon Community & Parks Foundation
Deborah Tonella, Music in the Vineyards
Youth Volunteer of the Year (Sponsor: Redwood Credit Union)
Andre Aikins, Boys & Girls Club of Napa Valley
Rudolph Barragan, Boys & Girls Club of Napa Valley
Natalia Cabello Mendoza, Valley Oak High School
Yessenia Crespo Luna, Valley Oak High School
Kalaya Jones, Mentis
Carla Magaña, Mentis
Christopher Olivier, Napa County Robotics
Luisa Ortega Subdiaz, Bring Change to Mind / Girls on the Run Napa & Solano
Jose Perez, Valley Oak High School
Jahir Rivera Medina, Boys & Girls Club of Napa Valley
Ava Rubin, Napa County Robotics
Josie Sellick, Boys & Girls Club of Napa Valley
Mariah Smith, Expressions of Hope
Excellence in Leadership (Sponsor: Center for Volunteer & Nonprofit Leadership and Pacific Gas & Electric Company)
Kerry Ahearn, Aldea Children and Family Services
Tony Fletcher, Enchanted Hills Camp for the Blind
Michele Grupe, Cope Family Center
Aimée Guillot and Olivia Cowell, Cafeteria Kids Theater
Nataly Kuznetsov, Disaster Responder Assets Network
Claudia Sonder, Napa Community Animal Response Team (CART)
Pablo Zatarain, Fair Housing Napa Valley
Hilary Zunin, Napa Valley CanDo

Achievement in Nonprofit Excellence
Boys & Girls Club of St. Helena and Calistoga
Cafeteria Kids Theater
Catholic Charities of Diocese of Santa Rosa
Collabria Care
Community Action Napa Valley
Community Resources for Children
Expressions of Hope
Molly's Angels
Napa Community Animal Response Team (CART)
Napa Farmers Market
Napa Porchfest / Napa County Landmarks
Napa Valley Community Foundation
Napa Valley Community Housing
Napa Valley Education Foundation
Napa Wildlife Rescue
NEWS
OLE Health
Serenity Homes of Napa Valley
St. Helena Hospital Foundation
St. Luke's Episcopal Church of Calistoga
The Hero Foundation
The Tug McGraw Foundation