CVNL's 29th Annual Heart of Marin Awards™ is Pleased to Announce Recipients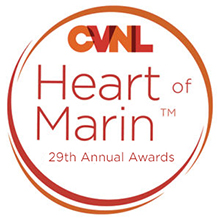 SAN RAFAEL, CA, January 26, 2022 – Center for Volunteer & Nonprofit Leadership (CVNL) is pleased to announce the recipients of the 29th Annual Heart of Marin™ Awards. Approximately 465 nonprofit and community leaders, volunteers, and elected officials logged onto the virtual Zoom event to recognize and honor 112 nominees. The event was broadcast live on January 13, 2022, from the Bill and Adele Jonas Center at the College of Marin, Novato, CA.
"This year's event which was going to be our first hybrid Heart event was changed days before to 100% virtual," said Linda Jacobs, CEO at CVNL. "It was a difficult and sad decision to make. After adding many safety measures for those attending in person, we realized nothing could protect us all 100%. The health and safety of our entire community is always our top priority."
Tim Myers, Executive Vice President/Chief Operating Officer at Bank of Marin, the Presenting Sponsor of Heart of Marin, had this to say: "The uncertain times we are living in have challenged each of us to step up and do more where we can, to come together for the benefit of our communities. As the presenting sponsor of Heart of Marin, Bank of Marin is grateful that Linda and her team at CVNL continue to ensure that we have the opportunity to honor some of the very special people who have responded to that challenge in support of our Marin nonprofit community."
And the 29th Annual Heart of Marin Recipients are…
Brayton Purcell LLP received the Corporate Community Service Award for being a champion to address social and economic needs in Marin. Employees receive paid time off for volunteering and support and raise funds for multiple organizations. Last year employees helped seniors affected by COVID restrictions by assisting them with home projects, setting up their computers, shopping, and getting them to their doctor appointments.
The Volunteer of the Year Award was presented to Jim Findlay of Marin Court Appointed Special Advocates (CASA). CASA volunteers provide support to children in the juvenile court system. Jim has provided consistent support to ensure that a child's needs are being met on an individual level and that they have a safe and stable home.
The Excellence in Board Leadership Award was given to David Lakes, San Geronimo Valley Community Center. David took the lead to make needed improvements to the Center, serving on multiple committees and was integral in helping navigate virtual and hybrid programming.
The Excellence in Innovation Award went to FIRE Foundry. FIRE Foundry is a new partnership between Marin County Fire Department, Marin Wildfire Prevention Authority, Conservation Corps North Bay, Marin County Office of Equity, U.C. Berkeley, Stanford, and College of Marin. The partnership accomplishes multiple goals: diversifying the workforce; providing multiple job pathways for underserved youth; and, ensuring a Marin workforce that is prepared in state-of-the-art wildfire prevention science and technology.
The Youth Volunteer of the Year award recognizes five full-time middle or high school students serving in a Marin nonprofit, education, or faith environment. Youth Volunteer of the Year Award winners included: Lyla Stanger, Children for Change; Lizbeth Mendieta-Alvarado, Youth Leadership Institute, and North Marin Community Services; Aidan Williams, Crescendo Connect; Xochitl Komarmy, Redwood High School English Language Development Program; and, Luca Cuffe, Marin Search and Rescue.
Omar Carrera, Chief Executive Officer, Canal Alliance was awarded the Excellence in Leadership Award. He led his team to address challenges brought on by COVID such as helping clients access financial and rental assistance, unemployment insurance and small business loans. He facilitated the distribution of food to 500 families each week and distributed $2.5 million in direct cash assistance to 4,000 households who lost jobs. Omar is a courageous leader whose strategy and outreach have helped shift the narrative in Marin to appreciating the assets brought to the community from Latinx immigrants.
The Achievement in Nonprofit Excellence Award was presented to North Marin Community Services. As the anchor human services organization serving North Marin, this multi-service organization addresses health disparities for children, adults, families, seniors, and immigrants. Accomplishments include distributing 605,000 pounds of food, providing rental assistance to 355 households, and, distributing $455,000 in cash assistance to 910 individuals.
Robert Currier, founding Artistic Director of the Marin Shakespeare Company, received the Lifetime Achievement Award. Onstage, in schools, in prisons, and online, they bring people together to learn from our past, imagine our future, and spark cultural engagement, learning, and change through the arts. Robert spearheaded the renovation of the Forest Meadows Amphitheatre at Dominican University. He helped create Marin Shakespeare Company's Shakespeare for Social Justice program, which started at San Quentin and has since served 14 California state prisons, offering opportunities for the incarcerated to use the power of theatre to change their lives. Now under construction, Robert is the primary force behind the creation of a new Center for Performing Arts, Education and Social Justice on 4th Street in San Rafael. His passion for Shakespeare and Theatre has inspired thousands.
All recipients were presented with certificates of recognition from Congressman Jared Huffman, Senator Mike McGuire, Assemblymember Marc Levine, and the Marin County Board of Supervisors. Additionally, winners (except Corporate Community Service) received an award of $5,000 for their nonprofits. The five Youth Volunteers of the Year received $1,000 each.
The Awards were sponsored and presented by CVNL (Corporate Community Service and Achievement in Nonprofit Excellence); Marin Community Foundation (Excellence in Leadership); BioMarin (Excellence in Board Leadership); Pacific Gas & Electric Company (Volunteer of the Year); Comerica Bank, (Excellence in Innovation); Redwood Credit Union (Youth Volunteer of the Year); and Kaiser Permanente, San Rafael (Lifetime Achievement). The Marin Independent Journal served as Media Sponsor.
"In the 29 years CVNL has produced this event, we've been able to award hundreds of thousands of dollars to dozens of nonprofits," said Jacobs. "CVNL is a resource, connection, and voice for the nonprofit community and the challenges we face, and has offices in Marin, Napa, Solano and Sonoma County. We stand united with our nonprofit stakeholders ready to support them as the pandemic continues."
###
---
About CVNL: For nearly 60 years, CVNL has advanced nonprofits and volunteerism by strengthening leadership, encouraging innovation, and empowering individuals in their communities. Passion alone isn't enough when it comes to creating strong nonprofits. That's why we work with aspiring and established leaders every day to help them build the skills and connections that can take their impact to the next level. Together we offer comprehensive programs that support nonprofits and volunteers including training, executive search, customized consulting solutions, volunteer services, and corporate engagement. Heart of Marin™, Heart of Napa™ and the new Heart of Sonoma™ events support nonprofits of every size and mission through recognition and cash awards. Other programs and services include the Sonoma Human Race, Secret Santa, Court Referral Program, and Volunteer Wheels. We provide disaster preparedness training and serve as an Emergency Volunteer Center (EVC), overseeing spontaneous volunteers and donations for Napa, Marin, and Sonoma Counties in the aftermath of a disaster. We believe that with confident and prepared leaders, our nonprofits will be better equipped to create healthy, happy, and more equitable communities. Visit www.cvnl.org to discover more.