26th Annual Heart of Marin Awards

Nonprofits — you amaze us!
Center for Volunteer & Nonprofit Leadership and event sponsor Bank of Marin honored Marin nonprofits and volunteers on Thursday, January 10, 2019. All nominees were recognized and awards were presented to the 2018 Heart of Marin recipients.
This year, 650 members of the community packed the Marin Center Exhibit Hall to honor nonprofits, volunteers, leaders, and businesses who give back. Whether you nominated, were a nominee, or attended to support a friend or colleague, thank you for taking the time to recognize the people and organizations who are moving the needle in our communities. Scroll down to read more about the winners and browse photos from the celebration here (all photos provided by Stuart Lirette Photography). The official press release can be viewed here.
And the 2018 recipients are…
Achievement in Nonprofit Excellence
Homeward Bound of Marin
Pictured: Mary Kay Sweeney, Executive Director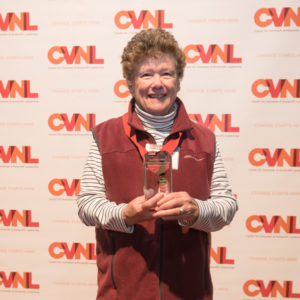 Homeward Bound's mission is to "end homelessness with housing, training and hope." The organization offers emergency shelter and supportive transitional housing for all members of the community, including elders, families, veterans and vulnerable adults. Celebrating 10 years, The Next Key Center offers 32 studio apartments and a large training kitchen as well as event venue for public. In 2016 Oma Village, a community of 14 low-cost rental homes for families transitioning out of homelessness, opened.
Homeward Bound achieved the following outcomes in 2018:
1,173 homeless people were served, including 235 seniors, 125 children under the age of 18, and 88 veterans
89% of residents in mental health programs maintained housing
More than 80% of residents exiting programs left for a housing opportunity
$2,892,000 of hospital stays were avoided thanks to the medical respite center
'Fresh Starts Culinary Academy' delivered a 10-week job-training program to 60 students, providing them skills that match with local job vacancies. More than 600 students have been trained since 2008.
The "Yellow Hallway" program, a partnership with Dominican Sisters of San Rafael opened to provide transition housing for two homeless single Moms and their children.
They secured a 35-year lease in Larkspur to transform into King Street Senior Housing.
Their social enterprises, 'Wagster Treats', 'The Key Room Catering' and 'Halo Truffles' continue to create hands-on work experience opportunities for formerly homeless.
Over 2,000 volunteers and donors supported Homeward Bound.
Committed to a collaborative approach to solving homelessness, they play a role in a countywide partnership to help the chronically homeless. This initiative with Ritter Center, St. Vincent de Paul Society, Buckelew Programs, the Marin Housing Authority, the County of Marin and the City of San Rafael, is known as "Coordinated Entry," a name-by-name list of the most vulnerable people struggling on the streets prioritized to find solutions that let each person end their homelessness. Since October 2017, more than 70 people have been housed.
Homeward Bound sets the gold standard in terms of organizational sustainability. They continue to be active and successful in their pursuit of new opportunities to increase the number of housing sites. Congratulations Homeward Bound.
SPONSOR: Nugget Markets
Volunteer of the Year
Jim Cleaves, Halleck Creek Ranch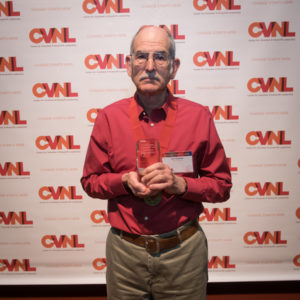 Halleck Creek Ranch helps people with disabilities to live a "life without barriers" through therapeutic horseback riding. Each week 100+ youth and adults visit the ranch. Jim is a member of the volunteer facilities and maintenance crew. He volunteers three full days a week (rain or shine) taking on the less glamorous tasks such as cleaning the paddocks of 20 horses, even on holidays as there are no "days off" when caring for livestock. His exceptional dedication ensures that the horses receive the best care.
A retired Marin County Parks employee, Jim has been trained in tree trimming and groundskeeping ensuring that the ranch stays a sanctuary for the riders through his thoughtful sweeping, trimming and manicuring of the property.
The largest contribution Jim made is his support of Halleck Creek's Professional Association of Therapeutic Horseback Riding (PATH). PATH is an international body that dictates best practices in the field of therapeutic riding. Their instructors are PATH certified and they opted to have the facility become certified. The process and requirements were numerous and the upgrades to the ranch extensive.
Working with the ranch caretaker, over 2 years, Jim helped build and weld over one mile of fencing ensuring that the horses and riders a safe facility. Jim played a pivotal role in the installation of the new ADA approved mounting ramp. Because the majority of riders have limited mobility and are in wheelchairs, special equipment must be used to help them get on and off the horses. Jim helped design, install and adjust it so it suits the riders perfectly.
Thank you Jim.

SPONSOR: Redwood Credit Union
Excellence in Board Leadership
Maureen Cornelia, Community Land Trust Association of West Marin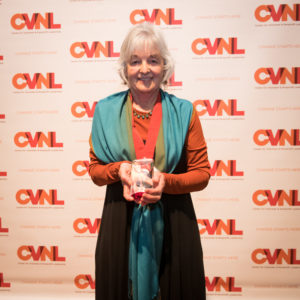 Community Land Trust Association of West Marin (CLAM) creates affordable homes in an environmentally responsible way in the communities surrounding Tomales Bay. Just like an agricultural land trust acquires and preserves land for agricultural use, a community land trust acquires property and preserves it for the community's use.
Maureen has shepherded the growth of CLAM in partnership with the Executive Director and two part time staff. She was a leader in restructuring the board from the role of auxiliary staff to one of governance helping each board member and committee to clarify their roles. When CLAM won the possibility of developing federal property in Point Reyes Station – a Coast Guard Housing facility with 36 townhomes and other buildings – CLAM acted to ensure that it would be made available for affordable homes.
Maureen has led the organization to learn different ways of funding and project development. She has learned the intricacies of project finance and partnerships, seeking out persons with legal and financial expertise to join the board. Maureen is aware of the difference a single home makes in the life of a family. A strong advocate, she has written letters, given testimony, and worked for the protection of renters across Marin.
When Maureen became Board President in 2011, CLAM provided 8 affordable rental homes with a budget of $200,000. With her leadership and collaborative spirit, the budget has grown to $500,000; they provide 20 homes (for sale and rent) plus, 14 affordable rentals in partnership with homeowners. They went from serving 8 households in 2011 to serving 65 in 2018.
It takes an exceptional leader to shepherd such change. Congratulations, Maureen.
SPONSORS: EO Products & Bregante+Company, LLP
Excellence in Leadership
Cheryl Paddack, CEO, North Marin Community Services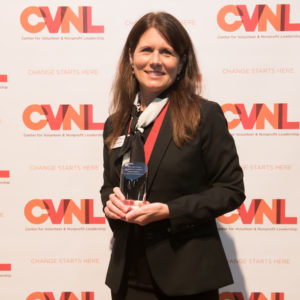 The mission of North Marin Community Services (NMCS) is to empower youth, adults and families to achieve well-being, growth and success. Two years ago, Cheryl began conversations to partner with other service providers. She initiated meetings with three nonprofits before entering into negotiations with Novato Human Needs Center to merge the two 45-year old organizations. The merger became effective on January 1, 2018.
What began as a belief that the community would benefit by combining efforts and services, became a reality and has been a success. Staff report fewer barriers and having more resources and expertise at their fingertips. Cheryl has ensured sustainability over the past ten years by strategically restructuring to reduce expenses and ensuring staff have a healthy work environment. Staff compensation and benefits are reviewed annually and the organization adopted a new 403(b) program.
A 10-year Deferred Maintenance and IT Plan was implemented that protects facilities and systems, ensuring a quality work environment and welcoming client experience. Cheryl utilizes resources and available expertise by both outsourcing when appropriate and offering office space to partner organizations to increase access to services in north Marin while avoiding duplication. She also ensures diversified revenue sources, which make for a more stable budget that includes: program fees, government grants and contracts, and foundations and donor-advised funds.
Cheryl worked with senior management to build a financial system and internal controls that result in clean annual audits, a strong liquidity ratio that would sustain up to 1.3 years of operations, with no debt or mortgages on two buildings. In addition, more than half of the 60 employees are bilingual, allowing it to serve a diverse mix of families in a manner that integrates and unites the community.
Congratulations Cheryl!
SPONSOR: Marin Community Foundation
Excellence in Inovation
Biotech Partners
Pictured: Lynda Gayden, Executive Director

Founded in 1993 by Bayer HealthCare and the City of Berkeley as a public-private career technical education program initially for low-income students, Biotech Partners (BP) has expanded across the Bay, launching their High School Biotech Academy at San Marin High School in 2016. BP's mission is to provide "underserved youth with personal, academic and professional development experiences that increase participation in higher education and access to fulfilling science careers."
BP serves about 60 11th & 12th graders at San Marin High and about 244 across the Bay Area. They target students traditionally excluded from STEM careers, particularly young women, lower-income, and students-of-color. San Marin has 39% students-of-color and 20% of students qualify for free and reduced lunch. Students struggle with STEM content and college preparedness; only about 17% of economically disadvantaged students achieved math proficiency in 2017-18 and only 18.5% of these low-income seniors were CSU/UC eligible.
BP recognizes and addresses students' challenges and very low statistical probabilities of academic and professional success due to socio-economic status, family education and structure, mediocre to low academic achievement, and even involvement in gangs and other destructive behaviors. BP provides a rigorous bioscience career technical education program, including paid internships in science settings. They weave together bioscience academics, hands-on lab work, workforce readiness programming and extensive personalized support.
The heart of BP's innovation lies in their partnership model bringing together public and private sector entities to provide students meaningful workforce development activities, and to create a pipeline of skilled, motivated entry-level workers.
Accomplishments include:
3,300 students served and 1,525 students placed in paid job-training positions collectively earning $3.4 million+
98% pursue post-secondary education (2% join the US Armed Forces)
Served 70 11th-12th graders from BP's target demographic at San Marin High School, placing students at Kaiser Permanente and Bayer Mission Bay
Established relationships with several potential internships hosts including Buck Institute on Aging, Ultragenyx and BioMarin
Congratulations Biotech Partners!
SPONSORS: Comerica Bank, BioMarin, & ABD Insurance and Financial Services
Corporate Community Service
Nugget Markets
Pictured: Chaunté Chastang, Store Director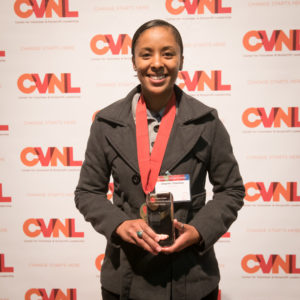 Founded in 1926, Nugget Markets is owned by the third-generation of the Stille family. The owners, managers and associates live a culture of service and action. This philosophy is directly applied to customers and the communities near the stores. Nugget Markets' core values are to Respect, Appreciate and Value Everyone. This means taking care of guests, associates, communities and producers.
Nugget focuses on supporting the community through donations of money, goods and volunteer efforts specifically with:
Education and Youth
Health, Well-Being and Nutrition
Elder Care
Sustainability and Agricultural Preservation
Safety Support for First Responders
Nuggets Markets has been a generous backer of the SchoolsRule campaign and individually supports 19 school foundations, the Marin School for the Arts and also provides daily donations to Extrafood.org. Nugget is a partner on the Giving Marin Community Initiative that provides nonprofits advertising space in the Marin Independent Journal. This year that partnership served more than 140 nonprofits providing 800 print and digital ads.
Nugget was a leader in spearheading food donations for Sonoma working closely with the Sonoma Office of Emergency Service to feed first responders and those at evacuation centers. For weeks, they delivered perishable foods to groups providing meals to those in the line of the fires and evacuation centers. Approximately 5,000 people were served.
Thank you Nugget Markets for coming to Marin and supporting the communities you do business in.
SPONSORS: Pacific Gas and Electric Company
Youth Volunteer of the Year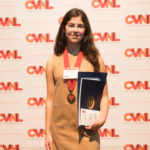 Adriana Golden, 11th grade, Branson: Adriana founded Knowledge is Power (KIP) whose mission is to close the literacy gap between children from well-off and low-income families by promoting early childhood literacy and access to books. KIP collects and distributes children's books in English and Spanish and hosts literacy circles at food banks and partner organizations reading to children to build comprehension skills, match students with grade-level books to keep, and connect parents with resources.
Adriana began growing the program, adding clubs and recruiting student volunteers to help at literacy circles and fundraising. Books are donated by many organizations and the number of partners has grown to include Canal Alliance, Marin Community Clinics, Canal Welcome Center, and Parent Services Project. A recent demonstration of her passion for advocating for youth access to literacy resources was the Tedx Talk she gave on bridging the literacy divide in San Francisco last March. Congrats Adriana!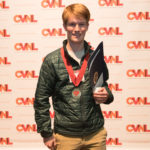 Cutter Dawes, Senior, Redwood: Cutter volunteers at Canal Alliance translating letters for clients, drafting 'Want Ads' for business partners, and holding one-on-one appointments with clients who need assistance. At the Marin Chapter of Amigos de las Américas, a nonprofit that trains and prepares youth for summer service projects in Latin America, Cutter asked if he could join the board of directors. He had been a volunteer and participant with Amigos in Ecuador the previous summer, and was looking for ways to continue helping.
Cutter speaks at many community information sessions and helps at training sessions for youth volunteers, and role-playing situations in Spanish to help teens prepare for their time in Latin America. He provides valuable support with recruiting, and speaking to high school students (and their parents) who are considering the program. His board role is the Spanish Coordinator, organizing and running practice sessions for 18 teen volunteers. Cutter has shown maturity beyond his years, listening carefully to discussions and offering suggestions. Congrats Cutter!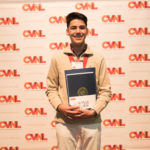 Daniel Magaña, Senior, Terra Linda: Dany remembers times growing up when he knew his parents did not eat so that he and his brother would not go hungry and times when his family had to make choices between food and rent. For these reasons, Dany became the leader of a youth-led food pantry and free market, enabling hundreds of people to access nutritious, culturally specific food.
Dany volunteers at Next Generation Scholars, which serves low-income students on their way to become the firsts in their families to go to college. He knows his is not the only family in Marin that faces food insecurity. Dany leads the Community Food Pantry, a partnership with the SF-Marin Food Bank, Arizmendi Bakery and ExtraFood.org, focused on providing groceries and prepared foods to families who otherwise could not afford them. His efforts have allowed 40 plus families to access seasonal produce, protein, grain, as well as canned and prepared groceries. He spends at least five hours a week, year round, in the food pantry totaling about 300 hours during the past two years. Congrats Dany!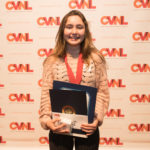 Loughlin Browne, Sophomore, Redwood: Loughlin created and runs a youth phone bank, chairs the Racial Equity subcommittee of Youth Leadership Institute's Marin County Youth Commission, and is a tutor at Bridge the Gap College Prep. Elected officials and their policies affect everyone, regardless of age, and Loughlin wanted to find a way to let the youth voice be heard, and to inspire students to get involved as active citizens. She began phone banking for campaigns in middle school and then in order to share the experience with her peers she started a student phone bank that campaigns for progressive candidates running in elections across the country as well as locally.
She has collaborated with Democracy Action and obtained an internship with the Marin Democratic Party where she is in charge of communications, training, and youth outreach for their Student Sundays program. Her phone banking has had a real impact – In the 18th Congressional District of Pensylvania, a Democrat, they made thousands of calls for, won by 627 votes. Loughlin also helped to organize voter registration drives at Drake, Redwood, Terra Linda, San Rafael and Marin Academy. Congrats Loughlin!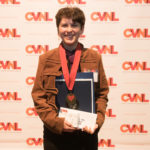 Lucia London, Senior, Novato: Lucy created the Novato High School Earth Club. The mission of the club is to spread awareness about issues of sustainability and climate change and implement solutions to address them. The club meets twice per week and has multiple events and fundraisers each year. From beach clean-ups to lobbying the School Board and City Council, Lucy has jumped fully into the issue of climate change and sustainability and how to apply solutions.
Lucy is responsible for all of the club activities and recruitment. She does a great job of getting underclassmen excited about achievable goals that can be implemented. Over the last year, Lucy and the club were successful at lobbying the Novato Unified School Board to adopt a Climate Action Resolution, affirming the district's commitment to green energy and sustainability. She had multiple meetings with the school districts administration, facilities, and grounds departments in order to find the best ways to put sustainability programs like installing bottle fill stations, acquiring tri-sort trash/recycle/compost bins, and getting the facilities crews on-board with a modern recycling and composting program. Congrats Lucy!
SPONSOR: Bank of Marin
Lifetime Achievement Award
Avon Mattison, Pathways to Peace
Accepting award: Co-Founder, Joanie Ciardelli. Avon was recovering from an accident an unable to attend. Photo of Avon in Mt. Fugi below.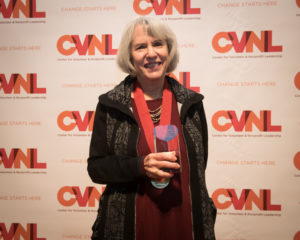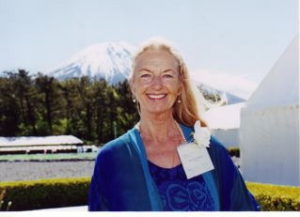 Avon is the Co-Founder of Pathways To Peace (PTP), an international peacebuilding, educational and consulting organization located in Larkspur. Avon has worked tirelessly for peace for over 55 years working with innovative leaders, groups and organizations building Cultures of Peace inter-generationally and inter-culturally. PTP has Consultative status with the United Nations Economic and Social Council and is an official Peace Messenger of the United Nations.
Begining as early as 1961, Avon originated "Creative/Integrative Decision-Making", a process applied to the purpose, principles and organizing strategies in diverse fields to bring about harmony and peace. A Summa Cum Laude graduate in political science and international communications and a former U.S. Foreign Service diplomat, Avon has served as special advisor to United Nations Conferences, renowned international leaders, and emerging youth leaders.
PTP began in Marin County, and brought international attention through the Children's World Peace Festival at former Ft. Baker, contributing to its conversion from a military base. Avon has served on the Advisory Councils/Boards of several organizations, too numerous to mention, noted below:
Center For Visionary Leadership
Creative Member of The Club of Budapest
Ehama Institute
European Community research project
Findhorn Fellow
Foundation for the Healing Among Nations
Global Youth Action Network
Institute of Noetic Sciences
Consultant & Advisor to SRI International
UNICEF on Convention on the Rights of The Child
UN Conference on Shelter for the Homeless
UN Conference on Sustainable Development
The first UN High Level Forum on the Culture of Peace
University of Peace (Costa Rica
URI Wisdom and Vision Council
Unity Foundation
World Business Academy
White House Conference on Small Business
World Futures Society
World Peace Prayer Society
World Centers of Compassion for Children
World Fund for the Dignity of Children
Avon was an influential instigator in creating a Universal Peace Day during the Cold War, inaugurated as The International Day of Peace with the United Nations in 1981. She also created the Culture of Peace Initiative in 1983, in colleagueship with former UN Assistant Secretary General Robert Muller. This Peace building Initiative, inaugurated in Marin and later expanded to include other places, unites the strengths of over 4,000 international organizations and focuses co-operative activities toward building a global culture of peace.
In her role overseeing the various United Nations representatives, youth interns, and projects of PTP, her wisdom and oversight touches a wide range of projects that relate to the various expressions of the United Nations 17 sustainable development goals, in particular SDG 16, Justice and Peace. The target of SDG 16 is to "End abuse, exploitation, trafficking and all forms of violence against and torture of children." Avon has been active in supporting "Operation Big Sister" designed to contribute to the global efforts to end human trafficking, what Jimmy Carter has called "the greatest human rights violation in the history of human kind."
Avon's work has both attracted the attention of and been developed in collaboration with players on the global stage, such as Assistant Secretary General's of the United Nations. But it is her ability to inspire millions of everyday people on the ground through her profound oratory, her unwavering attention on and commitment to peace, her ability to call forth the collaborative insight and collective wisdom of groups in concert with the world, her ability to seed structures like the International Day of Peace that focus people on peace.
Peacebuilding is not reserved only for those behind closed doors in "Peace Talks," but rather the power to create peace lives in every human being. Thank you Avon.
SPONSOR: Kaiser Permanente, San Rafael
2018 Nominees
Achievement in Nonprofit Excellence
The 2018 Achievement in Nonprofit Excellence Nominees are…
Ambassadors of Hope and Opportunity
Bernard Osher Marin JCC
Cedars
Ceres Community Project
Conservation Corps North Bay
ForWords Literacy Lab
Homeward Bound of Marin
Kids Cooking for Life
Marin Center for Independent Living
Marin Child Care Council
Marin Medical Reserve Corp Foundation
Mt. Tam Quilt Guild
North Marin Community Services
NovatoSpirit
Operation Access
San Geronimo Valley Community Center
Slide Ranch
St. Vincent de Paul Society
St. Vincent's School for Boys
Tax-Aid
SPONSOR: Nugget Markets
Volunteer of the Year
The 2018 Volunteer of the Year Nominees are…
Auxiliary Board, Marin Center for Independent Living
James Cleaves, Halleck Creek Ranch
Christine Comaford, Hospice by the Bay
Frank Cox, Marin County Sheriff's Office
Dr. Edward Diao, Marin Community Clinics & Operation Access
Jeremy Durfee, Next Generation Scholars
Mehrbanoo Esmaili, Whistlestop
Phil Garratt, Friends of the Mill Valley Fall Arts Festival
Gary Gellin, Extrafood.org
Nayeon Kim, Prison University Project
Sydney Minerly, Singers Marin
Steve O'Keefe, Civic Center Volunteers
Allison Park, Godmothers of Timothy Murphy School
Mike Smylie, The Marine Mammal Center
Paula Spencer, Marin Humane
An Wathen, Ceres Community Project
Voces de Cambio, Center for Domestic Peace

SPONSOR: Redwood Credit Union
Excellence in Board Leadership
The 2018 Excellence in Board Leadership Nominees are…
Heather Bowker, Marin Humane
Sam Brasch, Adopt a Family of Marin
Brandon Brown, Youth Leadership Institute
Deane Clough, Global Student Embassy
Maureen Cornelia, Community Land Trust Association of West Marin
Elizabeth Dinsel, Mill Valley Philharmonic
Doug Fryday, Museum of the American Indian
Trisha Garlock, SchoolsRule Marin
Amanda McCarthy, Community Action Marin
Peg Super, NAMI Marin

SPONSORS: EO Products & Bregante+Company, LLP
Excellence in Leadership
The 2018 Excellence in Leadership Nominees are…
Kay Carlson, Marin Open Studios
Lori Davis, Sanzuma
Nancy Dow Moody, Lifehouse, Inc.
Jon Marker, Youth Leadership Institute
Cheryl Paddack, North Marin Community Services
Christine Paquette, St. Vincent de Paul Society
Ted Smith, Kids Cooking for Life
Jane Winter, YWCA San Francisco & Marin
Abby Yim, Integrated Community Services (ICS)
SPONSOR: Marin Community Foundation
Excellence in Inovation
The 2018 Excellence in Inovation Nominees are…
10,000 Degrees Fellowship Program
Age-Friendly Solutions
Agricultural Institute of Marin's Rollin' Root
Ambassadors of Hope and Opportunity
Autistry Studios
Biotech Partners
Downtown Streets Team's Marin Mobile Care
ExtraFood.org
Giving Marin Community Partnership
Golden Gate Dietetic Internship Program
Humankind Alliance
Marin Aging and Disability Institute
New Media Learning
Nugget Markets & College of Marin Partnership
Play Marin
Project HOPE
Side by Side's YouThrive
St Vincent's Equestrian Program
SPONSORS: Comerica Bank, BioMarin, & ABD Insurance and Financial Services
Corporate Community Service
The 2018 Corporate Community Service Nominees are…
Bank of Marin
EO Products
Kaiser Permanente, San Rafael-Petaluma
Kiosk
Lotus Cuisine of India
Microsoft Corte Madera
Mike's Bikes
Nugget Markets
Pet Food Express
SPONSORS: Pacific Gas and Electric Company
Youth Volunteer of the Year
The 2018 Youth Volunteer of the Year Nominees are…
Loughlin Browne, MCYC & Bridge the Gap
Yendy Calderon Cifuentes, Marin Community Clinics
Jane Casto, Terra Linda Activism Club
Cutter Dawes, Canal Alliance & Amigos de las Américas
Kalyn Dawes, Marin County Sheriff's Search and Rescue
Nicole Fuches, Civic Center Volunteers
Sabrina Gelini, The Body Positive
Adriana Golden, Knowledge is Power
Bryan Greene, Canal Alliance
Tristan Johnson, St. Anselm Church
Elise Lamarre, Youth Leadership Institute – MCYC
Lucia London, Novato High Earth Club
Daniel Magaña, Next Generation Scholars
Kenyamarie Mahone, Youth Leadership Institute – MCYC
Max Manwaring-Mueller, Marin SEL
Damaris Marrufo, Novato Police Department, Marin Girls Chorus, Center for Domestic Peace
Ana Ostrovsky, Global Student Embassy
Francisco Pereira, St. Anselm Church
Rebecca Preis, Marin Humane
Chiara Savage Schwartz, Wonderbag.org & Community Heroes
Gabe Ural, Youth Leadership Institute – MCYC
Marlowe Ural, Youth Leadership Institute – MCYC
Quincy Webster, Marin County Sheriff's Search and Rescue
SPONSOR: Bank of Marin
Lifetime Achievement Award
The 2018 Lifetime Achievement Nominees are…
Barbara Coley
Marian Huntington
Heidi Kuhn
Barbara Lee
Avon Mattison
Doug McConell
Karen Schurig
Michael St. John
Nora Thompson
SPONSOR: Kaiser Permanente, San Rafael

At Bank of Marin, they serve Bay Area businesses and the people who run them, providing insight, guidance, and support as part of the legendary service that is their hallmark. Community commitment is one of the core values as they truly believe that strong communities benefit everyone. In the words of founder, Bill Murray, "If we do good, then everybody does better".