CVNL invites nonprofits in Sacramento or Marin to become a Service Enterprise, application extended to July 14
Apply for Service Enterprise Initiative (SEI) opportunities
CVNL can help guide you to effectively leverage volunteers and their skills across all levels of your organization. Below are examples of what you can do to more effectively address community needs and operate at almost half the median budget.
Become a Service Enterprise
SEI is not solely volunteer management training, but a comprehensive organizational realignment which empowers nonprofits to more efficiently engage volunteers and effectively address community needs. Research shows that organizations who are volunteer-centric develop stronger leadership capabilities, are more adaptable, sustainable, better-resourced to do their work, and able to carry out their missions more effectively.
How does the program work?
Through the journey of becoming a Service Enterprise, your nonprofit will receive comprehensive research-based assessments, innovative trainings, individualized consulting, and national certification that will guide your staff and board through a change management process to more effectively engage volunteers to address community needs.
CVNL provides the following through its Service Enterprise Program: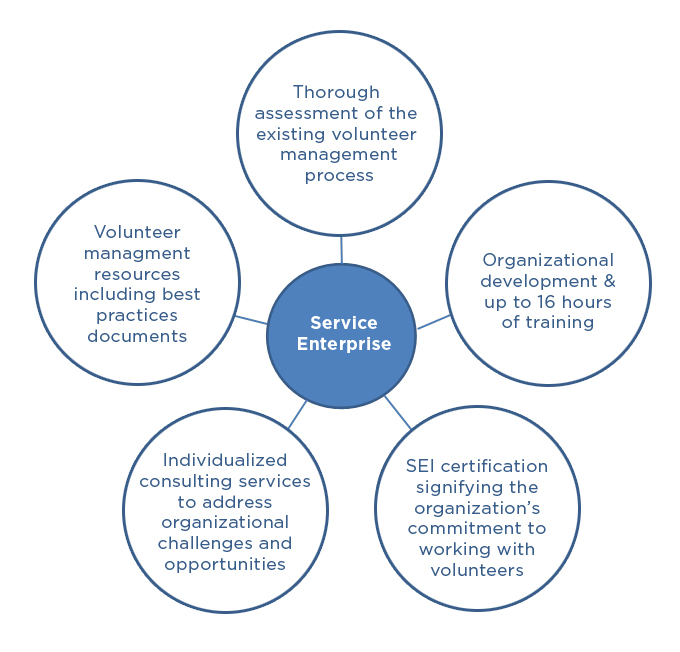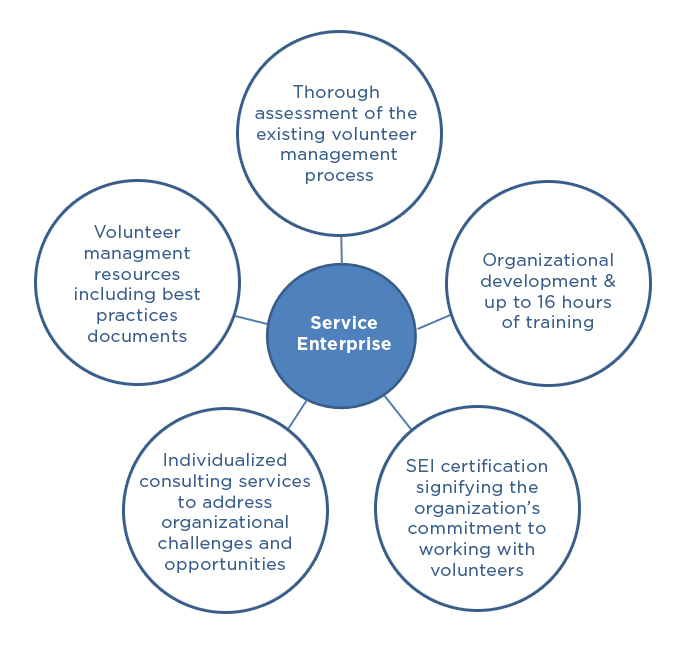 What are the key benefits of SEI?
Improved efficiency and reduced operational costs
Additional staff time created due to streamline processes
A better ROI through more effective program delivery
Making the organization more appealing to funders and volunteers
Establishing a baseline of practice for future analysis
Becoming part of nationally recognized program
Becoming a CVNL "go to" agency for volunteers, pro-bono consulting and corporate projects
Who are the local service enterprises?
Alameda County Community Food Bank
Marin County Civic Center Volunteers
Canal Alliance
Marin Villages
Cedars of Marin
Napa Emergency Women's Services
Center for Domestic Peace
Napa Humane
Community Resources for Children (CRC)
Napa Valley Hospice & Adult Day Services
Conolly Ranch Education Center
Operation Access
Cope Family Center
Renaissance Entrepreneurship Center
Catholic Charities
San Geronimo Valley Community Center
Hospice By The Bay
Slide Ranch
LITA
The Marin Literacy Program
Marin County Bicycle Coalition
West Marin Senior Services
Marin County School Volunteers
For more information or to apply for SEI, click here, or contact Anton Timms, Director of Volunteer Services, at 415.448.0340 or atimms@cvnl.org.
Application Deadline EXTENDED to: Thursday, July 14, 2016