And Action! Make Your Own Marketing Video Today!
If you have been thinking of making marketing videos but you are uncomfortable and hesitant because you don't know what to say, you don't like being on video and don't know all the technical stuff, we have great news for you!
Julia Glyde (juliaglyde.com) is coming to CVNL for a special 2 1/5 hour workshop on how to make your own marketing video.
You will get info on camera placement, light, and all the technical stuff + great tips + a script template to use immediately and walk out with a fully baked marketing video for your organization!
About Julia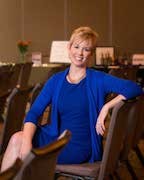 Julia is on a mission to help entrepreneurs get the visibility they need to succeed! She starts with honing in their marketing message, developing their unique style and speaking with confidence in public. Julia works with her clients on creating their own marketing videos, leading workshops, filling events and building their own communities. Julia provides a safe, supportive community, both online and off, so everyone can practice and develop their skills while being surrounded and supported by other motivated entrepreneurs. Julia's mission is to empower as many entrepreneurs as she can to build their business through visibility! Learn more about Julia at juliaglyde.com.